SUPNA LAAVAN DA SONG LYRICS from NIMRAT KHAIRA with PREET HUNDAL is a just released Punjabi track with some interesting music and entertaining lyrics. Gifty is name of the lyricist who penned the stanza for 'Supna Laavan Da Lyrics' and Bhindder Burj is director for music video starring Nimrat Khaira. White Hill Music has published this latest song on their official YouTube music channel.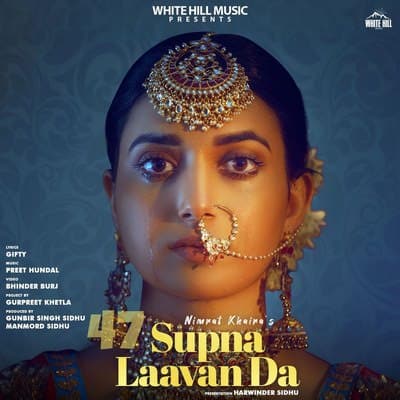 | | |
| --- | --- |
| Song Name: | Supna Laavan Da (Punjabi) |
| Singer(s): | Nimrat Khaira |
| Lyrics Writer(s): | Gifty |
| Composer(s): | Preet Hundal |
| Video Director(s): | Bhinder Burj |
| Music Publisher: | White Hill Music |
NIMRAT KHAIRA | SUPNA LAAVAN DA FULL SONG LYRICS
Supne Wich Karke Vaada,
Sajjna Kyun Aaya Naa,
Tang Jeya Tera Chhalla Hoya,
Taan Vi Asi Laaya Naa,
Mera Dil Taan Bas Paani,
Tera Hi Bharda Ae,
Mere Bin Kinjh Tera Hun,
Sajjna Das Sarda Ae,
Howe Je Mel Kite Taan,
Wekhan Ge Saare Ve,
Chann Ho Sakda Ae Neewa,
Tutan Ge Taare Ve,
[Instrumental Break]
Maleyaan Ton Matlab Puchdi,
Rendi Si Chhawan Da,
Supne Wich Supna Tuteya,
Tere Nal Laavan Da,
Sajna Tu Chann Lagda Si,
Mukhde Da Noor Kite,
Ehi Chann Phir Dukh Dende,
Chad De Jad Door Kite,
Dukh Banke Khad Da Kyon Nai,
Mere Hun Rahwan 'ch,
Ghulda Nai Vaa Banke Tu,
Ajjkal Mere Sahwan 'ch,
[Instrumental Music Continues]
Fikkiyan Ne Nail-Polish 'An Lishkan Na Koke Vi,
Udd Gaya Rang Mundri Da Te,
Ghas Gaye Aa Potte Vi,
Khankhan Da Tere Vehde,
Supna Si Boraan Da,
Lagda Larh Farh Leya Par Tu,
Ajjkal Ve Horaan Da,
Judeyaan Ne Tutna Vi Ae,
Gifty Gal Theek Teri,
Muk Jaani Zindagi Eh Par,
Mukni Nai 'Deek Teri,
[Humming]
Kujh Vi Nai Haasil Hunda,
Ambar Diyan Sair'an Ch,
Jannat Main Ruldi Wekhi,
Sajjna Tere Pairan Ch,
Appan Jad Zidaan Pugaiyan,
Ghadiyan Main Bhuldi Naa,
Beshak Din Bhul Sakdi Aan,
Arhiyan Main Bhuldi Naa,
Bhulna Nai Pind Tera Ve,
Bhulna Nayi Chehra Ve,
Khud Da Bhul Sakdi Aan Main,
Bhulna Nai Tera Ve,
[Instrumentals Continue]

You have read lyrics to Nimrat Khaira's brand new Punjabi song 'Supna Laavan Da' and here is its music video as well. Don't miss the beautiful music film.