Surviva Tamil Song Lyrics from Ajith Kumar's film 'Vivegam' is an energizing track. Learn the meaning of 'Surviva lyrics' from the English translation.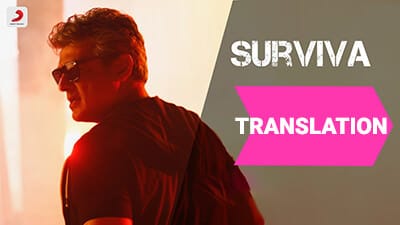 | | |
| --- | --- |
| Song Name: | Surviva (Tamil) |
| Album/Movie: | Vivegam (2017) |
| Singer(s): | Yogi B, Anirudh Ravichander, Mali Manoj |
| Lyrics Writer(s): | Siva, Yogi B |
| Music Director(s): | Anirudh Ravichander |
| Music Video Features: | Ajith Kumar, Vivek Oberoi, Kajal Aggarwal, Akshara Haasan |
VIVEGAM TAMIL MOVIE – SURVIVA SONG LYRICS ENGLISH MEANING
La Lala La La La La La Surviva (x4),
Sarithiram Purattu Porattam Pallayiram
Thadaigal Vendravar Yar Samaniyan Ellarom
Revisit history; his story aplenty.
When the game is over, it's all in a box for the King and the Pawn.
Iruttu Padhaigalil Thanambikkai Thee Pandham
Thunithavan Mun Vandhal Vidhigalai Madhi Vellum
When darkness engulfs, confidence is the beacon of light.
When you dare to take a leap, destiny is what we determine.
Padangal Katrathal Vizha Vizha Nan Ezhuven
Mudhugelumbu Sidhaindhum, My Game Is Beyond Pain.
Watch me or block me, but you can never ever stop me.
Enduring the strain, my game is beyond pain.
Do Or Die! Be The Best! Look Inside, Manifest.
Thoduvom Sigaram Varungalam Nammai Potrumada Nammai Potrumada
For the moon, you shoot. Future will follow suit. Be your own hero.
La Lala La La La La La Surviva (x4),
Irukaram Ayudham Puvi Porkalam
Ada Thudithida Vedithida Azhagada
Slap trap and snap prey suffer,
The going gets tougher.
Pagai Katharida Udal Sitharida
Ada Thadaigalil Thadam Seitha Padaiyada
Struggles are the stepping stones to survival.
Pirappadhe Porattamthan Agatha
Achchamindri Thairiyama Together
Thozhvigal On Me Guess Go Stronger
Urudhisai Neeyum Nanum Surviva
It is, after all, struggle for existence.
Fearless and bravely,y Together!
Failures will only make us grow stronger.
Repeat after me, we are survivors.
Never Give Up! Never Give Up! Never Give Up!
Vizhunthalum Ezhuvom, Never Give Up! Never Give Up!
Never Give Up! Sodhanai Velvom
I Do With Up All My Makkals, Give It Up For Kadhali
Sinthanai Manobalam Nam Theetum Karuvi
Namakku Nigaraga Illai Oruvar Why?
Kannadi Mugam Konda Nam Pottiyalar
I do it for my people. Give it up, my love.
A sharp mind is our weapon of choice.
I see no one of my calibres; why?
Thriving to outdo me.
When I fall, I get up.
Muyandral Than Sathiyam Niruthathe Don't Give Up Menmai Than Latchiyam
Day By Day Step By Step Vazhkaiyil No Regrets Thoduvom Sigaram
Try until you succeed. Don't stop; don't give up. Greatness is the goal.
Day by day; step by step; In life, not regrets. Let's reach greater heights.
Andavan (my creator) bless me higher. Every time we talk through fire.
Enemies want me retire, I can hear them liars say.
Impossible plausible, we make everything possible.
There be no better time than today.
Knocking down doors, I'm coming out raw
Nan Panbanavan But Hard To The Core
Tholvi Unthan PadikattuUchcham Yeri Kodikattu
Vetri Vagai Soodi I rise up and soar
I am a man of character but hard to the core.
Failures re the way forward, hoist a flag in the world so high.
Mark your victory, I rise up and soar; You gonna rise up.
La Lala La La La La La Surviva (x4),
Never Give Up! Never Give Up! Never Give Up!
Vizhunthalum Ezhuvom, Never Give Up! Never Give Up!
Never Give Up! Sodhanai Velvom
Vivegam – Surviva Music Video
Surviva Lyrical Video