Takhatposh Lyrics in demanding voice of Rupinder Handa is a meaningful song written by Narinder Batth.The promising song 'Takht Posh' with its lyrics and music is produced by Desi Crew.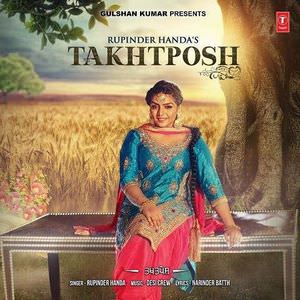 Album/Song Name: Takhatposh
Singers: Rupinder Handa
Music: Desi Crew
Lyricist: Narinder Batth
Label: T-Series
Takhatposh Lyrics – Rupinder Handa
Ve tu cancel kare na meeting apne yaaran di
Te main ghare shukeena gin'di aa aide paale,
Ve main television laundi changi laggan na,
Sach viahi gallan ban na jaawan haale,
Deor niyane da main homework jeha kardi aan (x2),
Ve main time-pass de labdi rehndi chaare,
Manja khada soot da dah ke
chakki jani aa kamli (x2),
Hun pashtauni aan dil karke adab hawale.
Ho teri roz party challe vich haweli de
Kheti naukar de sir, Hou kiwein guzara.
Munda kehnde vichon baahar ho gaya dowan de
Gallan bebe bapu karde si sardara.
Roti bhar-bhar dolu jande chitte paune ve (x2),
Taiyon kehnda rehnda pind mitran da sara,
Jeda janda-janda le jaye naal dunaali oh gal maadi (x2),
Eh kaljogan mera khoon choos gayi sara.
Ho utton le layi tu sarpanchi tokar wargi ve
Nit da route bana laye thaane court kacheri,
O pishon jhagdi jaawin case party-bazi de
Pehan jeon jogeya ghar mukhteyari meri,
Loki khush nai hone palleyon deke shuttenga (x2),
Ho vich siyasat apne ban jande ne vairi.
Behke takhatposh te peene aan
Chah teeje pehar di dhola (x2),
Jeth jathaan moore fukri ban jau meri.
Ho zindagi char dina da mela
Mela do ghadiyan
Batthan waleya battha peengha pyar diyan paiye,
Ho reejhan naal banawan bauli sajjar sooyi di
Saare tabbar nu vartaake pishon khaiye.
Ho kamre vich liyake la koi scenery shimle di (x2),
Akhan band kardeyan saar tour te jaiye,
Jide peke hon gareeb narindera dugna pyar jataiye (x2),
Amrit wele uth ke gun Satugur de gaiye.