Find out all newly released 'Tamil Songs' with their lyrics in English (Roman) script. The Tamil language is unique, and there's no disagreeing that. Tamil culture, philosophy, and living ethnicities have a muscular link to a language known to us as Tamil. However, It is much more than just an accent to people. The music of Tamil Nadu has a long tradition and past going back thousands of centuries. Music is an essential aspect of marriage and temple festival Tamil people.
JUST RELEASED TAMIL SONGS LYRICS
Thumbi Thullal Song Lyrics from 'Cobra' Tamil film featuring Chiyaan Vikram is an absolutely gorgeous track by A. R. Rahman, artist. The stunning playback vocals are lent by Nakul Abhyankar
The Tamil film industry is well known for its brilliant composers. The two highest renowned and much-admired film music composers of India, Ilaiyaraaja and A. R. Rahman is all from Tamil Nadu. On this specific page, you will be to enjoy the updated Tamil music continuously. We will regularly add the latest Tamil Songs Lyrics in English, as well as their official translations for the Tamil music lovers.
RECENTLY ADDED TAMIL SONGS WITH ENGLISH TRANSLATIONS

Mukundha Mukundha Song Lyrics from Dasavathaaram movie, by Sadhana Sargam & Kamal Haasan with translation in English, is a devotional track. Vaali is the writer of lyrics to 'Mukuntha Mukuntha
Vinmeen Vithaiyil Song Lyrics by Abhay Jodhpurkar & Saindhavi from Thegidi Tamil movie with English translation. Read Male, Female Vinmeen Vithaiyil lyrics version with meaning. THEGIDI MOVIE – VINMEEN VITHAIYIL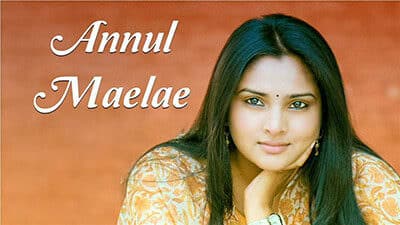 Annal Mele Pani Thuli Song Lyrics from Suriya's Vaaranam Aayiram (2008) film with translation in English. Sudha Raghunathan is the vocalist & Harris Jayaraj is the composer. Learn 'Annul Maelae'
Irava Pagala Lyrics by Hariharan, Sujatha Mohan from Poovellam Kettuppar film of Suriya & Jyothika with translation in English. Learn the Irava Pagala song meaning, stanzas penned by songwriter Pazhani
Margazhi Thingal Allava Song Lyrics from 'Sangamam' Movie with translation in English are out now. A. R. Rahman is the composer of Margali Thingal Allava lyrics. Learn the meaning of
Velli Malare Song Lyrics by S. P. Balasubrahmanyam, Mahalakshmi Iyer from Jodi Tamil movie with translation in English. Find meaning of Velli Malare lyrics. JODI MOVIE – VELLI MALARE SONG
You may expect to get A-Z Tamil songs lyrics released this year. We are also keen to share words of the old Tamil tracks from the most popular movies. The social media sharing buttons at the bottom of each lyrics page allows you to share the Tamil verses with your friends on Whatsapp as status or a link.
There could be several lousy apps in the 'Play Store' or 'App Store,' which would promise you the best supply of fancy features and latest songs, but what could be better than visiting a native website URL in your favorite web browser. Our webpages are small-sized and optimized for desktop and mobile users. You see some of the best Tamil songs with their respective, authentic lyrics.
Let's browse brand-new Tamil Songs and their lyrics, followed by their official music videos from the Tamil movies. If you would like to know the meaning of your favorite Tamil song words, we are also working to serve you the best with English interpretations of their songlines.