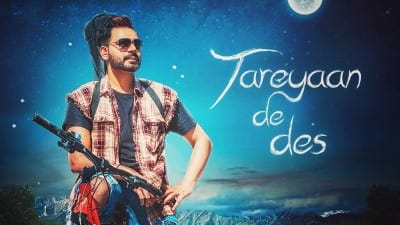 Here is the singer of evergreen Punjabi love anthems "Prabh Gill" with another one "Tareyan De Des" with lyrics to it given by Maninder Kailey. The lovable music production is from Desi Routz.
Sukh Sanghera is director of music video which features Roopi Gill actress. Read meaning of "TAREYAN DE DES" Punjabi lyric with translation in English.
PRABH GILL's TAREYAN DE DES SONG LYRICS
Wah sajjan ji,
Thoddiyan kya ne baatan
Thodde din ne, thoddiyan hi ne raatan.
Wow! My love, There is no match for you
The days are yours and the nights too.
Socheya si main kade
Chann nu ae vekhna
Bhaal mukki aake mukhde haseen te.
Once I thought of seeing moon
But I ended up seeing your beautiful face.
Tareyaan de des rehn waleyo
Yaad karda ae renda jo zameen te,
Tareyan de des rehn waleyo
Yaad karda ae thonu koi zameen te.
Oh resident of nation in stars,
He misses you who lives on earth,
Oh resident of stars,
Here somebody misses you a lot on earth.
(He is taking his beloved as an angel of heaven in stars / space.)
Waah sajan ji
Thodiyan kya ne baatan
Thode din ne, thodyan hi ne rataan.
Thodde agge saah vi sada
Kalla-kalla nikle
Rabb de muhon vi thonu
Mashallah nikle.
In front of you, I hold up my breath tightly
And from the mouth of God itself comes out like, "Oh my God!"
Thoddi deva ki misaal
Tusi aap bemisaal ho
Lekhan nu jagaun wale
Husan kamaal ho.
What example to give of you ?
You're truly matchless
You're awaker of my fate / luck, and a beautiful wonder.
Naam hain dua thodda
Pata laggeya
Karo gaur sade bole hoye ameen te.
The name of you is like a pray, I knew,
Please pay a close attention to the "Amen" I said.
Oh ho ho! Tareyan de des rehan waleyo
Yaad karda ae, rehnda jo zameen te
Tareyaan de des rehan waleyo
Yad karda ae thonu koi zameen te,
Wah sajan ji thoddiyan kya ne bataan
Thodde din ne thodiyaan hi ne rataan.
Thoddi rab tak ponch
Sada dil v ni sunda
Thodde lakhan ne mureed
sanu ik v ni chun da.
You have got links to God
And my heart also doesn't listen to me
There are hundreds of thousands of followers you have got
While nobody chooses me.
Sanu hass'ke bula lao
Asi bade be-umeed haan,
Bolde aan sach
Asi thode je ajeeb haan.
Call me happily, I feel quite hopeless
Am telling the truth, I'm utterly a strange person.
Pyar deya rang'an wich range rehn do
Satt maareyo na Kailey de yakeen te.
Let me be colored in the colors of love
Don't break Kailey's trust.
Tareyaan de des rehn valeyo
Yad karda ae thonu koi zameen te.
| | |
| --- | --- |
| Album Name: | Tareyaan De Des (Punjabi) |
| Performers: | Prabh Gill |
| Songwriter: | Maninder Kailey |
| Video Director: | Ashish Rai |
| Star Cast: | Roopi Gill, Prabh Gill |
| Music Director: | Desi Routz |
| Label: | Speed Records |
| Release Date: | 17 December, 2017 |