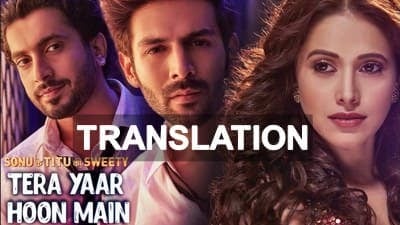 Tera Yaar Hu Main Lyrics with their translation in English (AKA TERA YAAR HOON MAIN ) describing the song meaning from Sonu Ke Titu Ki Sweety Bollywood film is a promising song in voice of Arijit Singh.
Rochak Kohli composes music for this song and Kumaar is the songwriter who delivered its Hindi lyrics. Catch the meaning of song lines in English.
TERA YAAR HU MAIN SONG LYRICS MEANING
Tu jo rootha toh kaun hansega
If you stay upset then who would smile?
Tu jo chhoota toh kaun rahega
If you go then who would stay back?
Tu chup hai toh yeh darr lagta hai
When you stay quiet, I feel scared.
Apna mujhko ko ab kaun kahega
Who would claim me as his own, now?
Tu hi wajah,
You are the reason;
Tere bina bewajah bekar hoon main
Without you, I am useless, without a cause.
Tera yaar hu main.
I am your best friend.
Aaja ladein phir khilono ke liye
Come, let's fight over toys again.
Tu jeete main haar jaaun
You can win, I will lose.
Aaja karein phir wohi shararatein
Come, let's be mischievous again.
Tu bhaage main maar khaaun
You can run away, I will stay to get beaten up.
Meethi si woh gaali teri
Even your abuses sound sweet.
Sun'ne ko taiyaar hoon main,
I am all ears for them.
Tera yaar hoon main.
I am your best friend.
Sajna de rang rangaaiyan ve
It's time to celebrate.
Sagna diyan sehnaiyan ve
It's an auspicious occasion.
Dhol wajange yaar nachange
Music will play buddies will dance.
Lakh lakh deo badhaiyan ve
It's time to congratulate.

Khusiyan 'ch nachda main phira
I am dancing with joy.
Hanjuan ton bachda main phira,
I keep my tears at bay.
Oh jaate nahi kahin rishte purane
Old relations don't fade away;
Kisi naye ke aa jaane se
When new relations are formed.
Jaata hoon main toh mujhe tu jaane de
If I am leaving, then let me go.
Kyun pareshan hai mere jaane se.
Why are you upset that I am leaving?
Toota hai toh juda hai kyun
Why fix what's broken?
Meri taraf tu muda hai kyun
Why did you turn towards me?
Haq nahi tu yeh kahe ki yaar ab hum na rahe
You have no right to say that we are no longer friends.
Ek teri yaari ka hi
It's only of your friendship;
Saaton janam haqdaar hoon main
That I have a right over, forever.
Tera yaar hoon main.
Best friend of yours, I am.
Tera yaar hu main,
I am best friend of yours.
| | |
| --- | --- |
| Song Name | Tera Yaar Hoon Main |
| Artist(s) | Arijit Singh |
| Album | Sonu Ke Titu Ki Sweety (Original Motion Picture Soundtrack) |
| Music Composer(s) | Rochak Kohli |
| Lyric Writer | Kumaar |
| Label | T-series |