Learn the meaning of an evergreen Punjabi folk song 'Tere Tille Ton Lyrics' by legendary voice 'Kuldeep Manak.' We have summed-up the translation of its all song-lines, let's read them below while listening to the audio track shared below.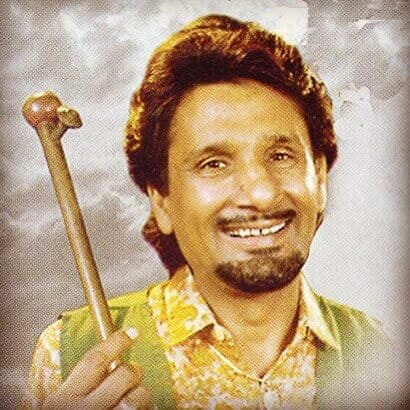 | | |
| --- | --- |
| Song Name: | Tere Tille Ton |
| Singer(s): | Kuldeep Manak |
| Lyrics Writer(s): | Hardev Dilgir |
| Music Director(s): | Kesar Singh Narula |
| Released: | 1976 |
| Language: | Punjabi |
| Translated to: | English |
KULDEEP MANAK | TERE TILLE TON LYRICS | ENGLISH MEANING
Tere Tille Ton O Surat Deehdi Aa Heer Di,
Oh Lai Vekh Gorkha Udd Di Ae Phulkari,
Her beautiful face is visible from the hilltop you live.
Look at her scarf, it's swaying in the air.
[He is telling it to a man named 'Gorkha.']
Bull Pateesiyan Ohdiyan, Gallan Galgal Nal Diyan,
Her lips are alluring like sweets, and her cheeks are tempting like lemons.
[Galgal, also known as Lemon species Pseudolimon is very hardy fruit crop.]
Mein Sadke,
I am willing to sacrifice myself for her safety and well being.
Towa Thodi De Vich, Na Patli Na Bhari,
She has an attractive dimple in her chin (a cleft chin). She has a perfect figure, neither too chubby, nor too skinny.
Dono Nain Jatti De Bhare Ne Kaul Sharab De,
Her eyes are enticing like cups filled with wine.
Dhaun Surahi, Mangi Mirgan Tor Udhari,
She has a long neck, while she has adapted (or borrowed) her astonishing walking style from a deer, it seems.
Gori Dhaun Duwale Kali Gani Jatti De, Mein Sadke,
She is wearing a stunning black necklace around her neck. I am willing to sacrifice myself for her.
Chandan Geli Nu Jeyon Nagan Kundli Mari,
It all appears like a snake has coiled up a block of sandalwood.
Baithi Trinjna De Vich Oh Charkhe Tand Paundi Aa,
Sitting in the Trinjan, she puts a cotton thread in the spinning wheel.
[Trinjan is a platform or place where women gather to share skills like embroidery, weaving, knitting, spinning, cooking, health and as well as their traditional knowledge.]
Vekh Ke Rang Jatti Da Tauba Karan Lalari,
Even the dyers (people who dye clothes) gaze at her beauty with awe.
Gujji Heer Rahe Na Meri Vich Hazaran De, Mein Sadke,
My beloved (she) is not meant to be an 'ordinary one' among the thousands; she is only one in thousands. I am willing to sacrifice myself over her beauty.
Dhi Oh Choochak Di Hai, Hai Sahan Ton Pyari,
She is the daughter of 'Choochak' (possibly a person's name), and she is dearest than my breath.
Jatti Khatar Aya Jog Lain Nu Tille Ton Mein Tere,
To turn a fakir (or yogi) for her, I have come to your hill.
Paade Mundran Kanni, Shuri Fer Ek Wari,
Pierce my ears and put earrings, please.
Jaake Khedeyan De Pind Darshan Kariye Heer De, Mein Sadke,
Kahe 'Tharike Wala' Ishq Hai Buri Bimari,
Let's go to her village and catch a glance of her.
(Guess, he wishes to turn a yogi so he could travel to her village without looking suspicious.)
The poet says that love is terrible ail (or sickness.)
Nain Sandli Jatti De Bhij Gaye Ni,
As sandal like girl's eyes got wet,
Ghar Panditan De Murge Rijh Gaye Ni,
The brahmins cooked chicken.
Munde Qazian De Daru Peen Gijh Gaye Ni,
The sons of magistrates took-up drinking habits.
Tagg Tutt Geya Sari Bai Duniya Da,
Entire world's order has broken.