Tere Ton Begair Lyrics from Parmish Verma's latest film "Rocky Mental" is a romantic Punjabi song. Desi Crew gave music for the song while Manjit Sahota is the playback singer.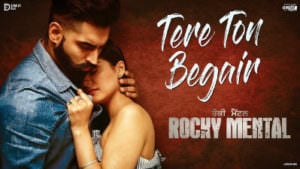 Name of Song: Tere Ton Begair
Singer: Manjit Sahota
Music Director: Desi Crew
Lyricist: Deep Kaur Vehniwal
Movie Name: Rocky Mental
The Tannu Kaur Gill & Parmish Verma starrer music video of 'TERE TON BAGAIR' is directed by Vikram Thori. Deep Kaur Vehniwal is writer of its lyric. And here you can read them with English translation.
PARMISH VERMA's TERE TON BAGAIR SONG LYRICS
Tere ton bagair channa
Jachdi na main
Tere kolon door hoke
Kakh di na main -x2,
I don't look good without you
Without you am nothing.
Rab dita mainu mauka
Tere supne pugaun da,
Dhanwad tera meri
Zindagi ch aun da -x2.
God has given me an opportunity
To fulfill my dreams
Thanks for coming into my life.
Mere dil wich vasda aein
Tu dhadkan di thaan
Saahan bin jee laungi
Tere bin bachdi naa -x2,
Socheya vi nai main kade
Tere bin jeyon da,
You live in my heart
In the place of heartbeat
I can live without breathing
But not without you.
Dhanvad tera meri zindagi ch aun da -x2.
Tere ishq ch rangeya ae
Mera loon-loon sajjna
Loki rabb nu dheonde ne
Mera rab tu sajjna -x2,
Bada shukrana tera
Apni banaun da.
I'm painted with your love
People worship God
And you're my God.
Dhanwaad tera meri
Zindagi ch aun da -x2.