Thaaram Pathippicha, with an English translation of its lovely lyrics and dreamy song from the movie Shikkari Shambhu, is a comedy thriller that will keep you entertained. The beautiful lyrics, written by Santhosh Varma, are romantic and poetic, describing the beauty of nature and the bond of love between two people who promise to be there for each other. The singer, Deepak, gives a wonderful performance, with his voice expressing the sweetness and sincerity of the song. The music, composed by Sreejith Edavana, is soothing and catchy, matching the lyrics and the singer.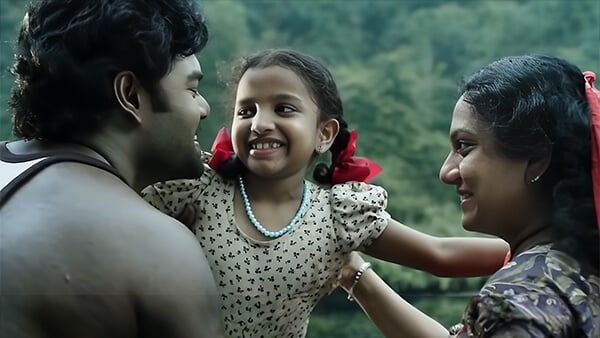 You will enjoy reading the lyrics with their translation in English, as they will make you admire the Malayalam language and its charming poetic imagery. Thaaram Pathippicha is a song that will make you smile and feel the warmth of love. Don't miss this lovely song from Shikkari Shambhu, one of the most enjoyable movies in Malayalam cinema.
SHIKKARI SHAMBHU MALAYALAM MOVIE · THAARAM PATHIPPICHA SONG LYRICS ENGLISH MEANING
Tharam Pathippicha Koodaram, Ravil Nilavinte Pooram
Cholakalum Kuyilalum Padum Thazhvaram
Ellam Namukkinnu Swantham
A tent with stars all over! A night of full moon!
A valley where rivers and sparrows dance,
All these belong to us today.
Megham Kandu Kattum Kondu Nerarinju Nee Valaru
Nin Vazhiye Rappakalil Kavalunde Ente Kannu
Ey Thane Thananthane Thanthane Raro Arariraro
Tharam Pathippicha Koodaram Ravil Nilavinte Pooram
Seeing the clouds, feeling the breeze, grow up, realizing the truth
My eyes will always stand guard for you, day and night, on your path.
A tent with stars all over! A night of full moon!
Unnippoovin Cheru Thottil Kettanay, Manjil Neyum Thalirada Tha
Kunjin Mizhiyezhuthan Sooryan Varavayitha
Kadha Cholli Swapnathin Thiri Koottam Njan
Mukiloram Chennethan Chirakavam Njan
Ey Thane Thananthane Thanthane Raro Arariraro
Unnipuvin small cocoon knotted nail nihil tilara tha..
Sun has come to write the baby's letter
I can tell the story and make the dream come true
May I be the wings to reach the top..
Ye.. Tane Tanantene.. Tanantene Nobody…anyone…
Ye.. Tane Tanantene.. Tanantene Who….Whoever…
Vanam Pole Oru Nooru Kai Neetti Maril Cherkkam Nirathinkalay
Etho Oru Vidhiyal Munnil Irul Moodiyal
Akale Nee Poyalum Nizhalavam Njan
Varuvolam Vazhiyoram Thiriyavam Njan
Ey Thane Thananthane Thanthane Raro Arariraro
Like the sky, I'll stretch a hundred hands and embrace you like a full moon.
As some strange destiny, when three's darkness all over
Even if you go far away; I will be your shadow.
Until you come back, Ill be the lamps all over your way back
Thaaram Pathippicha Full Song | Shikkari Shambhu
Shikkari Shambhu Film's Thaaram Pathippicha Music Video | Sshivada | Kunchacko Boban
The music video, directed by Sugeeth, features the adorable Kunchacko Boban and Sshivada, who play the lead roles in Shikkari Shambhu. The song celebrates love and its ability to light up the darkest nights.
Tharam Pathippicha Song Details
Title of Song
Thaaram Pathippicha
Movie
Shikkari Shambhu
Performing Artist
Deepak
Poet
Santhosh Varma
Music Director
Sreejith Edavana
Star
Kunchacko Boban, Sshivada