Thagyan Lyrics from from Coke Studio Season 14, with English translation, by Quratulain Balouch, Zain Zohaib is a swell song. Action Zain, Xulfi is the songsmith of THAGYAN's magic music. The smart Thagyan Urdu lyrics of the ditty are marked down by Zohaib Ali. The paradisaical music video of the charming show tune is guided by Kamal Khan.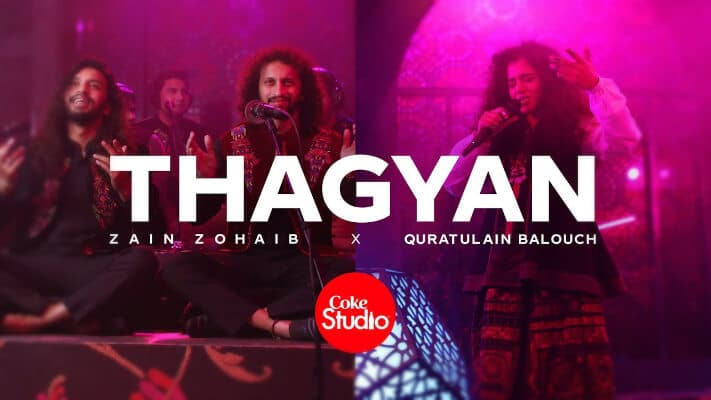 COKE STUDIO · THAGYAN FULL SONG LYRICS ENGLISH MEANING
Jadon Da Toon Takkya Ae Hoya Bura Hal Ve
I've been smitten and upset ever since our gazes collided.
Dil Mera Chahnda Hun Rahwan Tere Nal Ve
Now, from the bottom of my heart, I wish to be a part of your life.
Dil Noon Eh Dil Diyan Laggiyan Ne Mareya
This heart is plagued by obsessive worry.
Sanu Chan Mahiya Teri Thagyan Ne Mareya
Sweetheart, Your trickery has struck me.
Tere Ehnan Nainan Diyan Khedan Ee Kamal Nen
Your eyes deftly delves into the play.
Dende Nen Jawab Kadi Karde Sawal Nen
Sometimes they give me answers, and other times they ask me questions.
Duniya Ton Akk Gaye Yan
The essence of the world has been lost.
Tere Larh Lag Gaye Yan
Since I've discovered your presence.
Har Vellay Rehnda Channa Tera Hi Khayal Ve
I've been engrossed in your mystery at all times.
Teriyan Adawan Teri Akhiyan Ne Mareya
Your allure has caught my attention, as has your slick appearance.
Sanu Chan Mahiya Teri Thagyan Ne Mareya
I'm sickened by your deception, sweetheart.
Lambi Rat Judaiyan Di
It's been a long night without seeing you.
Sahnoon Channan Toon Chahi Da En Naeen Lor Kamaiyan Di
Sweetheart, I only need you. No wealth instead can make do.
Ik Wari Jawe Fer Mur Ke Toon aunda Naeen
You never come back once you've left.
Sade Wal Mahiya Fer Phera Toon Te Paunda Naeen
You never set foot or yearn again at my door, sweetheart.
Lokan Kol Bahna En Toon, Door Sathon Rahna En Toon
You keep the company of others. But keep a distance from me.
Kahnde Loki La Ke Toon Tor Nibhaunda Naeen
People say you commit but then break it in a flurry.
Tere Bare Khabran Eh Pakkiyan Ne Mareya
It irritates me that your scandals aren't contradictory.
Sanu Chan Mahiya Teri Thagyan Ne Mareya
I'm sickened by your deception, sweetheart.
Akkhiyan Ch Han Teri Bullhiyan Te Nan Ve
Your eyes nod yes, but your lips remain silent.
Ikko Wari Dil Nal Kar Lai Salah Ve
Listen to your heart instead of suppressing it for a change.
Dil Utte Mahiya Kitthe Zor Koyi Chalda
There is no pressure on this heart, sweetheart.
Sanu Te Bharosa Naiyon Tera Ik Pal Da
Despite my cries, I don't have the slightest faith in you.
Gallan Teriyan Jhootthiyan Te Sacchiyan Ne Mareya
I'm jittery because of your truths and lies.
Sanu Chan Mahiya Teri Thagyan Ne Mareya
Sweetheart, I'm stricken by your trickery.

Thagyan Urdu Music Video | Quratulain Balouch | Zain Zohaib
Play the up-to-date music video for Thagyan with ripping lyrics tastefully chanted by Zain Zohaib, Quratulain Balouch.
Let's read the galvanizing lyrics of Zain Zohaib, Quratulain Balouch's newly published Urdu song Thagyan. The songsmith Zohaib Ali supplies the right lyrics.