Thalli Pogathey Song from Tamil film 'Achcham Yenbadhu Madamaiyada' with Lyrics Translation in English language. A R Rahman is composer of music tune and the vocalists in playback are Sid Sriram, Aaryan Dinesh Kanagaratnam & Aparna Narayanan.The lyricist Thamarai pens lyrics for track "THALLI POGATHEY" & here you can learn its meaning.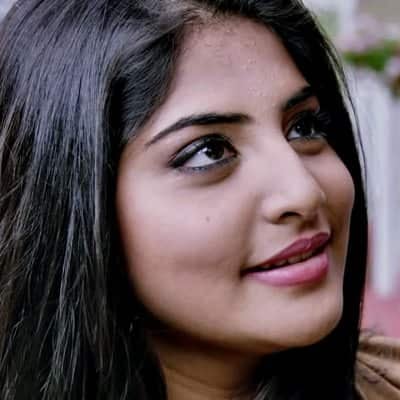 | | |
| --- | --- |
| Song Name: | Thalli Pogathey |
| Film Name: | Achcham Yenbadhu Madamaiyada |
| Singer(s): | Sid Sriram, Aaryan Dinesh Kanagaratnam, Aparna Narayanan |
| Lyrics Writer(s): | Thamarai |
| Music Director(s): | A R Rahman |
| Actor(s): | Simbu, Manjima Mohan |
| Record Label: | Ondraga Entertainment |
THALLI POGATHEY SONG LYRICS | MEANING ENGLISH
Yeno Vaanilai Maarudhey, Mani Thuli Pogudhey,
Maarbin Vegam Koodudhey,
Manamo Yetho Solla Vaarthai Thedudhey,
Oh, there's a change in the clime; Precious as a pearl, this ticking time.
My heart is throbbing hard; But my mind can't find the right word.
Kannellam Neeyae Thaan Nirkindrayi,
Vizhiyin Mel Naan Kobam Konden, Imai Moodidu Endren,
The only thing in my view; Is an image of you.
I beg my eyes to rest; But they protest.
Nagarum Nodigal Kasaiyadi Poley,
Muthugin Melae Vizhuvathinaaley,
Vari Vari Kavidhayi,
Time passes in a flash; Slashing my back like a whiplash.
In that misery; I found poetry.
Ezhudhum Valigal Ezhudha Mozhigal Enadhu,
Kadal Polae Peridhaaga Nee Nindraai,
Siruvan Naan Siru Alai Matum Dhaan,
Paarkiren Paarkiren,
These are my written verses; In unknown jargons.
Like a mighty ocean you stand; I only see the waves, for I'm just a child.
Eriyum Theeyil Ennai Nee Ootru,
Naan Vandhu Neeraadum Neerootru,
Oh Oorellam Kanmoodi Thoongum
Osaigal Illaadha Iravey
Pour me into the sea of flame; It'll be my waterfall, all the same.
It's a still, wordless night; While the whole town sleeps tight.
Oh Naan Matum Thoonkamal,
Yengi Un Polae Kaaigindren Nilavey,
O Moon! Like you, I shine; I sleeplessly pine.
Kalaabam Polaadum Kanavil Vaazhgindreney,
Kai Neeti Unnai Theendavae Paarthen,
Yen Adhil Thorthen Yen Mudhal Mutham,
Thara Thaamadham Aaguthu Thaamarai Veguthu,
I'm living in a surreal world; With the colors of a dancing bird.
I stretch my arms, reaching out to you; But then, why did I fail to?
For that first kiss, why does it take forever? It smoulders the flower.
Thalli Pogadhey Enaiyum, Thalli Poga Solladhey,
Iruvar Idhazhum Malar Enum Multhaaney,
Don't you move away; Don't you ask me to move away.
Our lips are but thorns, Disguised as flowers.
Dhegam Thadai Illai Ena Naanum,
Oru Vaarthai Solgindren,
Aanaal Athu Poi Dhaan,
Yena Neeyum Arivaai Engindren Aruginil Vaa,
I affirm that our bodies are no barrier; But you and I both know, that it's a lie.
So, come closer now.
Kanaviley Therinthayi Vizhithadhum Olinthaai,
Kanavinil Dhinam Dhinam Mazhai, Thuliyaai Pozhinthaai,
(Thalli Pogadhey)
Kangalil Yekam Kaadhalin Mayakam,
Aanaal Paartha Nimidam,
Oru Vidhamaana Thayakam,
You show up in my dream; When I awaken, you hide from me.
In my reverie, everyday; Like raindrops, you shower away.
Love has caused a strange intoxication; But the sight of you causes hesitation.
Nodi Nodiyaai Neram Kuraiya,
En Kaadhal Aayul Karaiya,
Yeno Yeno Maarbil Vegam Kooda,
Vidhiyin Sadhi Vilaiyaadudhey,
Enai Vittu Piriyadhanbey,
Tick-tock, tick-tock; Time slips off.
Tick-tock, tick-tock; Ticking off my years of love.
Why does my heart palpitate? It's the cruel game of fate.
My dear, let's be together; Forever.