Thathaka Theithare song from the Malayalam movie 'Hridayam' featuring Kalyani Priyadarshan, Pranav Mohanlal has charming lyrics and a good English translation with voice by Prithviraj Sukumaran. The surprising lyrics of 'Thathaka Theithare' warble were jotted down by Kaithapram. Hesham Abdul Wahab was the instrumentalist of THATHAKA THEITHARE's capital music. The splashy music video of the paean was steered by Vineeth Sreenivasan.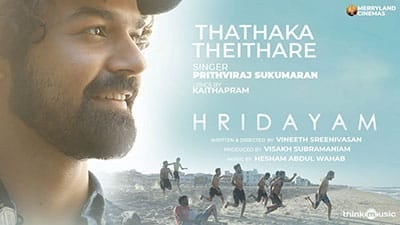 HRIDAYAM MALAYALAM MOVIE · THATHAKA THEITHARE SONG LYRICS ENGLISH MEANING
Tharam Thelinju Manassinullil
A star rises within my heart.
Pathiramurayunnu Akasha Kombil
Midnight simmers in the sky.
Pattin Chundathu Poru Poonkuyile
Come, join the melody, O' lil bird.
Ellam Ellam En Kayyil Venam
In my possession, everything shall be.
Thathaka Theithare Thathaka Theithare
Thathaka Theithare Thannare Thannare
Kanan Avathe Kelkkan Avathe
Unable to see. Unable to hear.
Engo Pokunnu Etho Vazhiyoram
Wandering aimlessly, through random paths.
Thane Marannu Njan Enne Marannu
I am lost. I have forgotten myself.
Kalam Marunnu Ellam Marunnu
The times, they are a-changing. Everything is changing
Thathaka Theithare Thathaka Theithare
Thathaka Theithare Thannare Thannare

Hridayam Film's Thathaka Theithare Music Video | Kalyani Priyadarshan | Pranav Mohanlal
Let's play unique music video for Thathaka Theithare from a splashy movie Hridayam.
Let's check out Prithviraj Sukumaran's pleasingly sung Thathaka Theithare Song Lyrics and their meaning which are featured in the Hridayam film of Pranav Mohanlal, Kalyani Priyadarshan. Kaithapram has scripted the Thathaka Theithare Malayalam lyrics and Vineeth Sreenivasan mastered the music video.