"Top Flame" by Jerry is a Punjabi rap track that takes us into the heart of the urban landscape. The music video offers a glimpse of the typical urban setting, with scenes featuring cars, bridges, and the rapper performing in the bustling downtown area.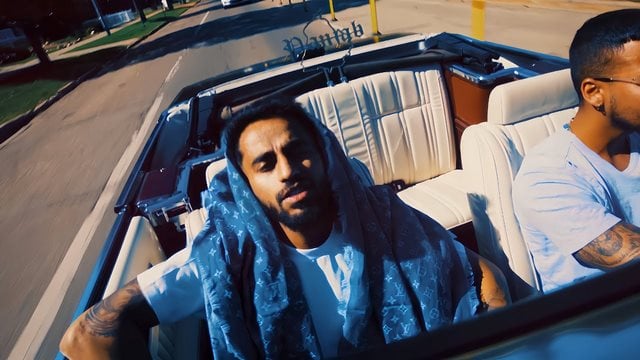 The lyrics of "Top Flame" delve into the theme of success and the envy it often generates. Jerry confidently asserts that his achievements are why many people look at him with jealousy. This unapologetic proclamation forms the crux of the song.
Jerry's lyrics capture the essence of ambition and the desire to reach the top. They resonate with anyone who has ever set their sights high and worked tirelessly to achieve their goals. Jerry's lyrics serve as a reminder that achieving greatness can come with both envy and admiration in equal measure in a world where success frequently has its fair share of critics.
TOP FLAME SONG LYRICS
Ho Munda Rose To Ghost Rap Kare Street
Tera Mera Mel Kudiye Ni Salty Sweet
Mare Ambaran Te Teek Lagge Dharti Na Feet
Utton Sumer Te Duni Kude Gabru Jei Heat
Ho Pure Peak Te Craze Utto Peek Te Jawani
Sada Wakra Style Huyi Duniya Deewani
Asi Beparwah Rab Kare Nigrani
Jithe Dise Hundi Att Oh Aa Jatt Di Nishani
Ho Munde Tip To Toe Kehnde Nire Hi Kude Lat
Rehnde Apne Ch Khush Bahla Load De Ni Sat
Bilo Patt Lain Jhatt Kar Has Galbat
Pave Dilan Utte Bhari Bas Eko Mulaqat
Ho Har Pase Sune Chobar Da Naa'
Munda Duniya Nu Chubhda Ae Tan
Munda Duniya Nu Chubhda Ae Tan
Duniya Nu Chubhda Ae Tan
Ho Tere Chalda Brain Vich Munda For Sure
Ni Main Jan'da Aa Sara Teri Akh Da Cure
Hundi Hath Laya Maili Munda Dilon Aa Pure
Tere Samjh Ni Auna Sada System Hor
Ho Chadhi Mathi Mathi Lor Matha Chadheya Surur
Kehra Takdi Zarur Chahe Gadi Vi Aa Hur
Sada Teeje Din Hunda Rab Wal Nu Aa Tour
Loki Bujhde Ne Rehnde Koyi Gal Te Zarur
Ho Agg Layi Payi Aa Shadi Koyi Ni Than
Munda Duniya Nu Chubhda Ae Tan
Munda Duniya Nu Chubhda Ae Tan
Duniya Nu Chubhda Ae Tan, Duniya Nu Chubhda Ae Tan
Ho Kade Nazran Ch Munda Kade Nazran Ch Gadi
Kade Nazran Ch Gutt Kade Nazran Ch Adi
Sara Akh Da Hi Kara Muhon Gal Koyi Na Kadi
Ride Karde Ne Shor Wave Mitran Ne Shadi
Ho Mitran Ne Shadi Gadi Tak Uphil,
Vich Vajjda Sunida Ucchi Ucchi Romey Gill,
Mainu Lagda Gali Da Tera Kada Ae Dil
Gal Karna Je Chaundi Mainu E-Side Mil,
Oh Main Tan Duniya Halauni Tera Das Ki Irada
Hai Ni Kise Te Yakeen Alah Meharban Sada
Fire Jodi Mere Nal Bohtan Tera Hi Ae Wada
Kade Akh Nu Pehchanan Ch Dhokha Ni Main Khada
Ho Mainu Hathi Success Kare Chhaan
Munda Duniya Nu Chubhda Ae Tan
Duniya Nu Chubhda Ae Tan
Munda Duniya Nu Chubhda Ae Tan

Aidan Notarianni's music video successfully accentuates the urban, modern vibe of the song. It showcases the rapper in his element, exuding confidence and charisma as he delivers his verses. The scenes of the bustling city add an authentic backdrop to the narrative of striving for success.
TOP FLAME MUSIC VIDEO
"Top Flame" may not be a complex lyrical masterpiece, but it doesn't aspire to be. It's a straightforward and honest portrayal of the rapper's journey to success and the mixed reactions it garners. Jerry's confident delivery and the urban visuals make it an engaging and relatable piece for fans of Punjabi rap.
SONGS FOR YOU
Young G — Jerry
Showstopper — Jerry
Tukda Dil Ka — Jerry, Sumit Goswami
TOP FLAME SONG DETAILS
Track Name
Top Flame
Singer(s)
Jerry
Lyrics Writer(s)
Jerry
Composer(s)
Inderzy