Top Notch Gabru is a magnificent song, and it has hot verbals by Vicky. The swell lyrics of the tune are written down by Kaptaan. Proof is the director of TOP NOTCH GABRU's astounding music. The likable music video of the theme is guided by Hitesh Arora.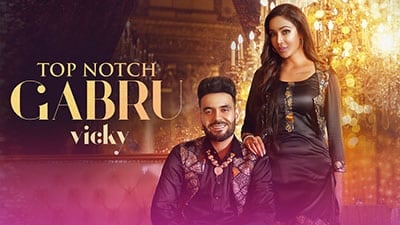 | | |
| --- | --- |
| Song Title: | Top Notch Gabru |
| Performer(s): | Vicky |
| Lyrics Writer(s): | Kaptaan |
| Composer(s): | Proof |
| Director: | Hitesh Arora |
VICKY | TOP NOTCH GABRU FULL SONG LYRICS
Thukk Naal Ni Billo Vadde Vadde Thokte
Fukre Rakhe Jutti Wali Nok Te
Jatt Ne Ni Sari Duniya Ton Add Ne
Asla Mul Leya Sade Dabb Ne
Pairan De Wich Paake Jhanjar
Turdi Moraan Wangu Ni
Jine Laad Naal Jatt Ne Rakhi
Keda Tainu Sambhu Ni
Teriyan Neele Pani Wargiyan Akhan
Face Gulaab Kudey
Sidha Painda Gal Nu Sidha
Teda Hisab Kitab Kudey
Kali Gaddi Kala Pistol
Tu Bas Gori Gori Ae
Gabru 320 Da Asla
Tu Pittal Di Goli Aein
Mitha Kiwein Subha Hojuga
Khanda Chobar Cheeni Ni
Ikko Nukte Wich Mukaunda Gal
Koi Nukta-cheeni Ni
Narmi Da Bahla Karde Ni Maan Taan
Garmi Naal Sadi Puri Jaan Pehchan
Ghadiyan Gold Di Chain Waliyan
Titliyan Sade Utte Senti Bahliyan
Tera Lakk Marode Khanda
Jidaan Discovery Te Sapp Kudey
Paake Rakhda Bol Baint Jatt
Kaddke Rakhda Vatt Kudey
Halki Halki Daarhi Jattiye
Par Moustache-an Bhari Ae
Sade Bare Information Google Utte Sari Ae
Duniya Khede Game Edhar Game Ae Paati Mitran Ne
Parson Maare Fire Te Kal Hadtaal Karati Mitran Ne
Jachmi Paunda Cheez Rakane Karke Dekhi Gaur Jahi
Addiyan Kooch Koochke Rakhdi Tuvi Sunflower Jahi
Mann Tu Bhawein Na Mann Jattiye
Jatt Tera Dil Lai Geya Ni
Haan Aafat Warga Garbu Teri Aadat Banke Beh Geya Ni
Yeah Proof!
Tera Suit Te Beer Sadi Lemonade Aa Dowein Ni
Burj Khalida Laike Jaoon Je Tu Raazi Howein Ni
Naa Kaptaan Bathinda Ala Bhaji Bhaji Howe Ni
Collar Fadke Side Te Launda Keda Moore Hove Ni
Fukra Mainu Shabad Pasand Ni, Banda Kithon Houga
Dil Seene Cho Bahar Ni Kaddeya, Ganda Kithon Houga
Kache Laaye Payea Aa Vairi Pakke Pairi Aaye Aan
Naa Taan Laike Vekhi Mithiye Kis Level Ton Chhaaye Aan
Boli Dase Akh Teri Di Munda Tainu Fit Kudey
Mathi Mathi Chaal Rakhi Ae
Khideya Khideya Chit Kudey
Gadd-khane Diyan Suni Chal Badkaan
Kabze Ch Layi Phirde Aa Sadkaan
Tu Je Paundi Pariyan Nu Waqt Aan
Gabru Vi Teesi Wala Products Aa
Sada Nature Sathon Leyande Jande Phull Ni
Sure Shot Paaun Husan Da Mul Ni
Tu Hasdi Te Mitran Nu Muchh Chaadti
Main Haan Manna Tan Karaan Beliyan Nu Party

Read the lyrics of Vicky's unique Punjabi song Top Notch Gabru. The serialist Kaptaan pens-down the esteemed lyrics.