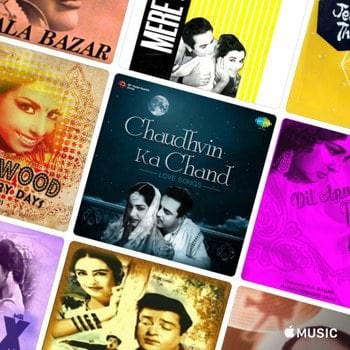 Mid '60s Bollywood film proceeded in much equal vein from it had during the '50s, with passionate melodic classics from Lata Mangeshkar and Hemanta Mukherjee. Be that as it may, as the decade advanced, films got more action-packed, and the music kept pace with a memorable, increasingly Western-influenced sounds. Enjoy one of the most enduring periods of Bollywood music with our most melodic Hindi songs collection from the 1960s.
The evergreen Hindi songs of Hemant Kumar, Lata Mangeshkar, Mohammad Rafi, Asha Bhosle & Manna Dey's most played on Itunes, Apple Music, Saavn (JioSaavn), YouTube,  Gaana, Eros, Saregama Music are listed below from the time period of 1960 to 1970s.
1960's HINDI HIT SONGS LIST
1. Mere Sapnon Ki Rani (from Aradhana)
Kishore Kumar
Mere Sapno Ki Rani sung by Kishore Kumar from 17th Filmfare Award winning classic Bollywood blockbuster romantic, drama movie Aradhana (1969) is an evergreen Hindi song. The music video from film stars Rajesh Khanna & Sharmila Tagore. Touching music is composed by S.D. Burman & lyrics are penned by Anand Bakshi
2. Pukarta Chala Hoon Main (from Mere Sanam)
Mohammed Rafi
Pukarta Chala Hoon Main is yet another soothing song in loving vocals of Mohammed Rafi from Mere Sanam (1965) featuring Biswajeet, Asha Parekh, Mumtaz & Pran. O.P. Nayyar is composer of promising music composition.
3. Beqarar Karke Hamen Yun Na Jaiye (From "Bees Saal Baad")
Hemant Kumar
Bekarar Karke Hume Yun Na Jaiye is a lovable old Hindi song from Waheeda Rehman, Biswajeet & Madan Puri's classic Bollywood movie Bees Saal Baad (1962). Hemant Kumaris the legendary voice in playback and captivating lyrics are crafted by Shakeel Badayuni. Hemant Kumar also have composed the song music.
4. Gaata Rahe Mera Dil (from Guide)
Lata Mangeshkar & Kishore Kumar
Gata Rahe Mera Dil is a never forgettable golden tune which is hummed by the duo of Kishore Kumar and Lata Mangeshkar. The song is from Guide (1969) movie featuring Dev Anand, Waheeda Rehman, Kishore Sahu, Leela Chitnis & Anwar Husain. S.D Burman is director of music and Hindi lyrics have been inked down by Shailendra.
5. Raat Akeli Hai Bujh Gaye Diye (From "Jewel Thief")
Asha Bhosle
Raat Akeli Hai Bujh Gaye Diye is a marvelous song  from Jewel Thief, a spy thriller heist film directed by Vijay Anand. Asha Bhosle lent her soothing voice for song and Majrooh Sultanpuri wrote the equally good lyrics. The actors performed on song are Dev Anand, Vyjayanthimala, Ashok Kumar & Tanuja with music composition created by S. D. Burman.
6. Dil Ka Bhanwar Kare Pukar (from Tere Ghar Ke Samne)
Mohammed Rafi
Dil Ka Bhanwar Kare Pukar song filming Dev Anand, Nutan is from classic Hindi film Tere Ghar Ke Samne (1963). Mohammed Rafi soulfully hums the tune and S. D. Burman has composed it. Hasrat Jaipuri is writer of romantic Hindi lyrics.
7. Ajeeb Dastan Hai Yeh (From "Dil Apna Aur Preet Parai")
Lata Mangeshkar
Ajib Dastan Hai Yeh is a romantic-sad song from Indian Hindi-language romantic drama film Dil Apna Aur Preet Parai released in 1960. Shailendra is songwriter and Lata Mangeshkar is vocal performer. The stars in music video from classic movie are Raaj Kumar, Meena Kumari & Nadira.
8. Na Tum Hamen Jano (From "Baat Ek Raat Ki")
Hemant Kumar
Na Tum Hamen Jano Na Hum Tumhe Jaane is a beautiful romantic song performed by Hemanta Mukherjee & Suman Kalyanpur from the movie, Baat Ek Raat Ki (1962). Sachin Dev Burman (S.D. Burman) is composer of tune and Dev Anand, Waheeda Rehman, Johnny Walker & Asit Sen are the actors performing in music video.
9. Ehsan Tera Hoga Mujh Par (From "Junglee")
Mohammed Rafi
Ehsaan Tera Hoga Male version is sung by Mohammed Rafi and female version is performed by Lata Mangeshkar. Shammi Kapoor, Saira Banu & Shashikala starring Junglee (1961 film) is the Indian movie featuring this song, produced and directed by Subodh Mukherjee. The music of track is directed by Shankar Jaikishan and the amazing lyrics are thoughts of Shailendra and Hasrat Jaipuri.
10. Mere Mehboob Qayamat Hogi, Pt. 1 (from Mr. X in Bombay)
Kishore Kumar
Mere Mehboob Qayamat Hogi song from Mr. X in Bombay (1964) Indian science fiction thriller Bollywood movie has two different versions, both sung by Kishore Kumar.The song stars Kishore Kumar, Kumkum, Madan Puri and has been composed by Laxmikant–Pyarelal.
11. Khwab Ho Tum Ya Koi Haqeeqat (From "Teen Devian")
Kishore Kumar
Khwaab Ho Tum Ya Koi song filming Dev Anand, Simi Garewal, Nanda, Kalpana Mohan & I. S. Johar is a cheerful song from Teen Devian (1965). The music was composed by S. D. Burman and sung by Kishore Kumar.
12. Khoya Khoya Chand Khula Aasman (from Kala Bazar)
Mohammed Rafi
Khoya Khoya Chand is most soulful voice of Mohammed Rafi is a most liked song from Hindi film Kala Bazar (1989) featuring Dev Anand, Waheeda Rehman, Nanda & Helen. This song has its music  composed by Helen. S.D. Burman with lyrics penned by Shailendra.
13. Zara Nazron Se Kah Do Ji (From "Bees Saal Baad")
Hemant Kumar
Zara Nazaron Se Kah Do Ji is also most played song in voice of Hemant Kumar and is from Bees Saal Baad (1962). Biswajeet, Waheeda Rehman, Madan Puri & Asit Sen performed in music video and  Shakeel Badayuni penned the song lyrics.
14. Ae Mere Zohra Jabeen (from Waqt)
Manna Dey
Aye Meri Zohra Jabeen is an appreciable classic song composed by Afghan singer and compositor maestro Abdul Ghafoor Breshna. Manna Dey is the vocalist and Waqt (1965) film features the track starring Balraj Sahni, Sunil Dutt, Sadhana, Raaj Kumar, Shashi Kapoor & Sharmila Tagore. Ravi is composer of music and Sahir Ludhianvi have drafted down the song stanza.
Top songs of 60's Bollywood, List of best Hindi songs from 1960s. Romantic Old Hindi tunes from 1960 to 1970, Hit Hindi tracks old is gold anthems.