Read the Kadhale Kadhale Song Lyrics that are performed by Shankar Mahadevan, Padmalatha for Indru Netru Naalai Tamil movie, with their English translation. Vishnu Vishal, Miya are the stars who acted in the Kadhale Kadhale music video. Learn the meaning of Kadhale Kadhale's Tamil lyrics in the English language. The songbird Viveka wrote-down the song-lines 'Kadhale Kadhale' and R. Ravikumar is the video-director who managed the music video.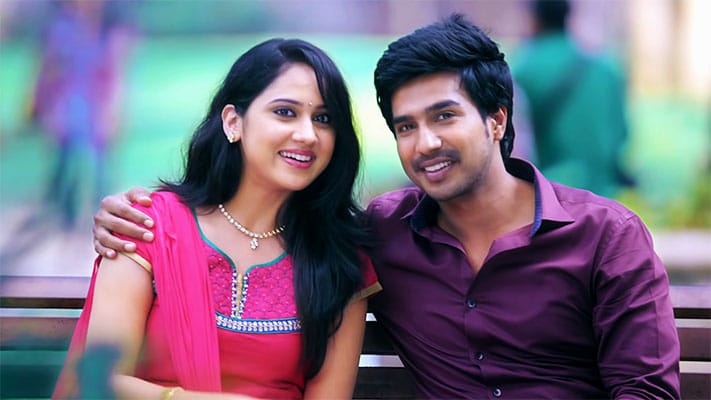 INDRU NETRU NAALAI | KADHALE KADHALE TAMIL SONG LYRICS ENGLISH MEANING
Kadhale Kadhale Ennai Udaithene
Ennil Unnai Adaithene Uyir Katti Inaithene
Netrinai Katrile Kotti Iraithene
Imai Kattu Avizhthene Thuyar Mattum Maraithene

Love, oh love! I broke myself.
To fill me with you tugged our lives together.
I filled the air around with our memories…
…Untied your eyelids and hid away the sorrows alone.
Nizhal Adum, Ninaivil Rendu, Kalavadi Tharuven Indru
Kadikaram Kalam Neram Sulatriduven

I'll grab the blurry shadows of our thoughts.
I will turn around the time for you.
Unai Kana Ulagam Sendru, Angeyum Idhayam Thanthu
Pudhithana Kadhal Ondru Nigazhthiduven

I will travel across the world to see you again.
I'll fall in love again with you.
Indru Netru Nalai Endrum Nee En Dhevathai
Kadhal Seiyum Mayai, En Vanam Engum Poo Mazhai

In the present, past, and future. You'll be my angel, always!
The magic spell cast by the love pours down as flowers from the sky.
Manathodu Mattum Ingu
Uravadum Nesam Ondru
Uyirodu Ennai Yetho Irakiyathe

The only affection that transcends our hearts is something that grounded me.
Padiyeri Keele Sellum
Puriyatha Padhai Ondru
Athil Yeri Poga Solli Kuzhapiyathe

Wandering on an unknown path teases me to still wander around it.
Kalam Kadanthalum Mazhai Neerai Pole Neram
Kan Mun Mella Sinthuthu En Sinthanaiyile

As time moves on, just like raindrops, it keeps dripping on my thoughts.
Gadigaram Vanga Ponal, Antha Neram Vangi Thanthai
Enna Nanum Seiveno, Enthan Uyire

I am confused at the time that you gifted me. Oh, love!
Indru Netru Nalai Endrum Nee En Dhevathai
Kadhal Seiyum Mayai, En Vanam Engum Poo Mazhai

In the present, the past, and the future. You'll always be my angel!
The love's magical spell rains down as flowers from the sky.
KADHALE KADHALE TAMIL MUSIC VIDEO | PADMALATHA | SHANKAR MAHADEVAN
Let's watch the Kadhale Kadhale Tamil music video from the Indru Netru Naalai film.