Read the Manmadhane Nee Song Lyrics that are performed by Sadhana Sargam for Manmadhan Tamil movie, with their English translation. Silambarasan, Jyothika are the stars who acted in the MANMADHANE NEE KALAIGNAN music video. Learn the meaning of MANMADHANE NEE KALAIGNAN's Tamil lyrics in the English language. The lyricist Snehan wrote-down the song-lines 'MANMADHANE NEE KALAIGNAN THAAN' and A.J. Murugan is the video-director who administered the music video.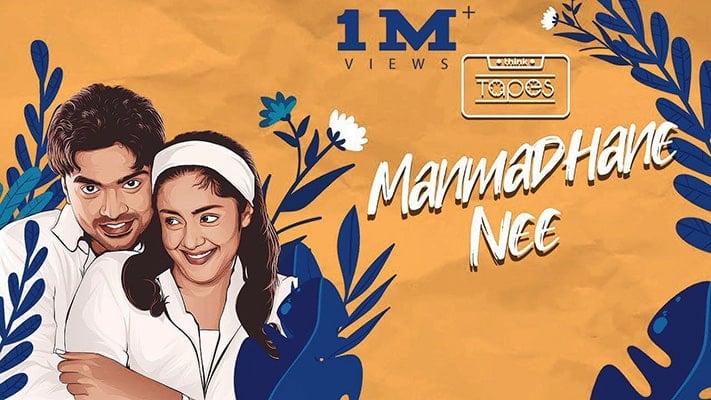 MANMADHAN | MANMADHANE NEE KALAIGNAN TAMIL SONG LYRICS ENGLISH MEANING
Manmadhane Nee Kalaignyan Than
Manmadhane Nee Kavingyan Than
Manmadhane Nee Kadhalan Than
Manmadhane Nee Kavalan Than
O Cupid! You're an artist!
O Cupid! You're a Poet.
O Cupid! You're a lover.
O Cupid! You're a protector!
Ennai Unakulle Tholaithen Yeno Theriyala
Unnai Kanda Nodi Yeno Innum Nagarala
Unthan Rasigai Nanum Unaken Puriyavillai
I don't know why l lost myself in you.
Why the time stands still after meeting you?
I'm your ran! Why don't you understand that?
Ethanai Angal Kadanthu Vanthen Evanaiyum Pidikavillai
Irubathu Varudam Unnai Pol Evanum Ennaiyum Mayakavillai
I've crossed many men, and I didn't like anyone.
Nobody flattered me as you have.
Manmadhane Nee Kalaignyan Than
Manmadhane Nee Kavingyan Than
Manmadhane Nee Kadhalan Than
Manmadhane Nee Kavalan Than
Oh, Cupid! You're a talented artist!
Oh, Cupid! You're a poet.
Oh, Cupid! You're a romantic.
Oh, Cupid! You're a defender!
Nanum Oar Pennena Pirantha Palanai Indre Than Adainthen
Unnai Nan Partha Pin Angal Vargathai Nanum Mathithen
Enthan Nenjil Oonjal Katti Adi Konde Irukirai
Enakul Pugunthu Engo Neeyum Odi Konde Irukirai
Only today, I've achieved the purpose of being born as a woman.
Only after seeing you, I've started respecting men.
You're swinging in my heart.
You're running in me.
Azhagai Nanum Marugiren
Arivai Nanum Pesugiren
Sugamai Nanum Malarugiren
Unakethum Therigiratha
I'm dancing gracefully.
I'm talking intelligently.
I'm blooming pleasantly.
Do you have any such feelings?
Oru Murai Parthal Pala Murai Inikira Enna Visithiramo
Nanbane Enaku Kadhalan Anal Athuthan Sarithiramo
l saw you once, my life turned sweet, what's this wonder?
Is it history if a friend turns into love?
Manmadhane Unnai Parkiren
Manmadhane Unnai Rasikiren
Manmadhane Unnai Rusikiren
Manmadhane Unnil Vasikiren
O Cupid! l see you.
O Cupid! l admire you!
O Cupid! l taste you!
O Cupid! l live in you!
Unnai Muzhuthaga Nanum Mendru Muzhungavo
Unthan Munnadi Matum Vetkam Marakavo
Enthan Padukaraiku Unthan Peyarai Vaikavo
Shall l devour you fully?
Shall l feel shy before you?
Shall l name my bedroom after you?
Adimai Sasanam Ezhuthi Tharugiren Ennai Yetru Kolla
Ayul Varayil Unnudan Irupen Anbai Parthu Kolla
I'll give you the charter or my slavery. To accept me.
I'll be with you till my last breath. Take good care of me.
MANMADHANE NEE TAMIL MUSIC VIDEO | SADHANA SARGAM
Let's watch the Manmadhane Nee Tamil music video from the Manmadhan film.