Rait Zara Si song from the Hindi movie 'Atrangi Re' featuring Sara Ali Khan, Akshay Kumar, Dhanush has good-looking lyrics and a charming English translation with aria by Shashaa Tirupati, Arijit Singh. The stylish lyrics of the 'Rait Zara Si' hit record were given by Irshad Kamil. A. R. Rahman was the songster of RAIT ZARA SI's breathtaking music. The ornamental music video of the rhyme is commanded by Aanand L. Rai.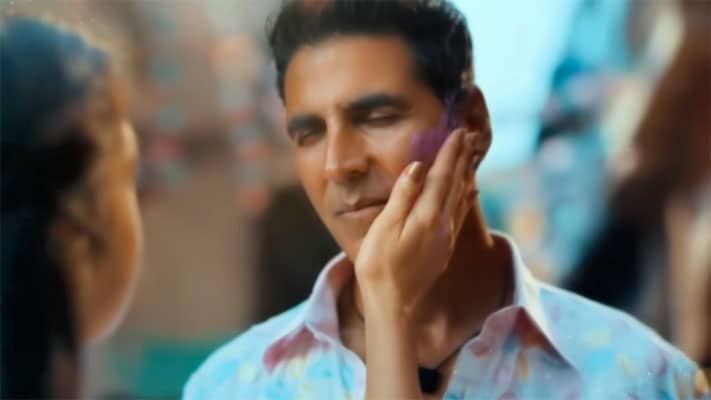 ATRANGI RE HINDI MOVIE · RAIT ZARA SI SONG LYRICS ENGLISH MEANING
Hona Tera Hona Paana Tumko Paana
I'd like to be yours. I'd like to have you.
Jeena Hai Yeh Maana Pal Bhar Mein Sadiyan Hai
Living in love for a moment feels like living for centuries to me.
Sadiyon Mein Jeena Hai Yeh Maana
I'm thinking about living for centuries.
Hath Mein Teri Khushbu Hai Khushbu Se Dil Behla Hai
Your fragrance is on my hands, and it has delighted my heart.
Yeh Hathon Se Yun Fisla Hai Ho Jaise Rait Zara Si
It's slipped through my hands like sand through my hands.
Roz Mohabbat Padhta Hai Dil Yeh Tumse Judta Hai
Every day, my heart reads about love. My heart is drawn to you.
Hawaon Mein Yun Udta Hai Ho Jaise Ret Zara Si
It flies through the air like sand.
Vasam Adhu Vasam Veesuthadi
Your fragrance lingers everywhere.
Yeh Hulchul Dil Ki Yeh Hulchul Bole Aaj Aas Paas Tu Mere
This feeling! A sensation in my heart tells me that you are nearby.
Bikhra Hoon Main Toh Kuchh Pal Hawa Mein Tere Bharose Ko Thaame
During the difficult time, I lost faith in myself, but I kept having faith in you.
Chalna Bhi Hai Badalna Bhi Hai, Tujhme Hi Toh Dhalna Bhi Hai
It is necessary to keep going and to keep changing. It is also necessary to be similar to you.
Dil Thoda Jazbaati Hai Bhar Jaata Hai Baaton Se
My heart is a little fluttering. It is satisfied with only talking.
Yeh Phir Chhalke Yun Aankhon Se Ho Jaise Ret Zara Si
Then it splatters out of eyes like sand from your hands.
Hath Mein Teri Khushbu Hai Sach Puchho Toh Ab Yun Hai
Your fragrance is on my hands. If you ask me the truth
Tu Chehre Pe Mere Thehra Ho Jaise Ret Zara Si
You're like sand on my face.

Atrangi Re Film's Rait Zara Si Music Video | Sara Ali Khan | Akshay Kumar | Dhanush
Check out the newly released music video for Rait Zara Si from a ornamental movie Atrangi Re.
Let's stream Shashaa Tirupati, Arijit Singh's pleasantly chanted Rait Zara Si Song Lyrics and their meaning which are featured in the Atrangi Re film of Dhanush, Akshay Kumar, Sara Ali Khan. Irshad Kamil has inked down the Rait Zara Si Hindi lyrics and Aanand L. Rai managed the music video.