Trendster Lyrics is collaboration Punjabi anthem proudly performed by legendary vocalist Jazzy B with rap performance contributed by Gangis Khan.The magnificent song is produced by Deep Jandu and J Statik while lyrics of Jazzy B's this 'TRENDSTER' song are written down by Karan Aujla.Music video is directed bt GIfty and you can read full lyric of the Punjabi song here.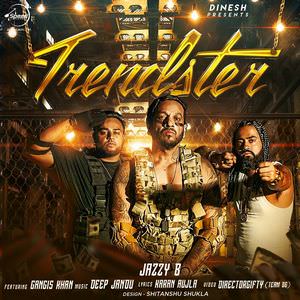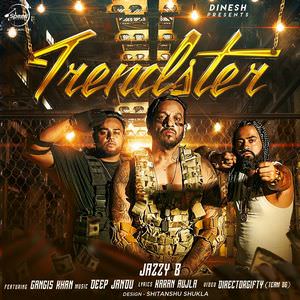 Song / Album Title: Trendster
Artists: Jazzy B, Gangis Khan
Music Composer(s): Deep Jandu & J Statik
Lyrics Writers: Karan Aujla
Video Director: Gifty ( Team Dg)
Label: Speed Records
New Punjabi Song Trendster Lyrics Jazzy B & Deep Jandu
Intro…
Maharaja kehke aa bulaundi duniya
O jatta kehke tu bulaundi ae kudey,
Leader-an de naal vi ni jude hone ni
Jine tere yaar nal lok ne jude.
Mitran di worldwide taur ni
Rakhda harek banda gaur ni
Te sher jida jera balliye
Ni tha-thaan maarda.
Dekh le trend set karta
Duniya te koka aisa jadta
Te naam hi bathera,
Ni tere yaar da (x3).
Ho shonki ni vikhaweyan da yaar mudd ton
Naam hi baneya brand jatt da,
Jithe khad jaiye othe ad jayi da
Jag utte famous stand jatt da.
Manak di shaati wangu gajjda
Munda ae angaar nira agg da,
Ni yaaran utton hasske kude ni jaan vaarda.
Dekh le trend set karta
Duniya te koka aisa jadta
Te naam hi bathera,
Ni tere yaar da,
Ni tere yaar da (x2).
Gangis Khan Rap verse.
I've been doing this for a while now
My swagger kills 'em
I hurt 'em with my style
Coppin' bottles, poppin' bottles
After lifestyle
I spark movements
They call me the golden light child
Easy! You know I mean business
Whem I'm talkin' money
My wrist chunkey pockets bulky
My cologne skunky
Gangis Khan I make it
Children jump around like monkeys
My world is law
I'm supported by the whole country
When I talk kids listen
When I rock mic to make headlock
I really should be a politician
I'm too big for hip hop
Everyday we set trends
And can't nobody make a trendster
World music we really do this
We put this game in a headlock.
Akhan vich rohb dil vich rabb ni
Gutt vich kada ae pashaan jatt di,
Husna di rakhda na pukh balliye
Maapeyan ch vasdi ae jaan jatt di.
Bada hi subha da jatt aam ni
Hek wangu goonjda ae naam ni
Ke baneya dream goriye main har naar da.
Dekhle trend set karta
Dunia te kokka aisa jarta
Ke naam hi bathera balliye ni tera yaar da
Ni tere yaar da
Ni tere yaar daa.
Aa geya ni ohi billo time.
[musicrecordingwithrating url="http://lyricsraag.com/trendster-song-lyrics-jazzy-b-gangis-khan-deep-jandu/" name="Trendster" date="Dec 1, 2016 " artist_name="Jazzy B" artist_url="http://lyricsraag.com/trendster-song-lyrics-jazzy-b-gangis-khan-deep-jandu/" rating="5″][/musicrecordingwithrating]