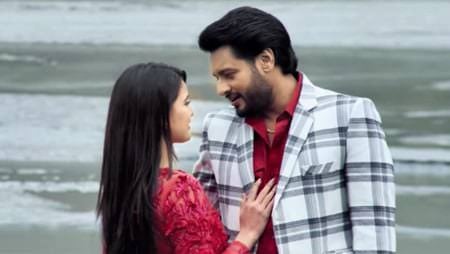 Tu Milea Lyrics from Kaka Ji movie (with meaning) and with the beautiful vocals from duo of Prabh Gill and Mannat Noor is a duet romantic Punjabi song starring Dev Kharoud & Aarushi Sharma.
Amar Kavi is lyricist of delightful love song "Tu Mileya" and Gurmeet Singh has composed its music, White Hill Music released it.
TU MILEYA SONG LYRICS | PRABH GILL
Tere naal jud gayi dor koyi,
Jachda nai sajna hor koyi (x2),
Mitha ras teri mohabbat da,
Main jede din da peeta ae,
Mainu es janam wich tu mileya,
Hou pichle janam pun keeta ve (x2),
(Meaning of chorus: I have go you in this life. I must have done good deeds in previous life;)
Sadran diyan kaliyan mehak diyan
Chaawan diyan chidiayn chehak diyan (x2),
Meri biyaban jayi zindagi wich
Lag gaiyan mauj baharan ni,
Zindagi wich diti thaan mainu,
Teri kiddan shukar guzaraan ni (x2).
(You have given me a place in your life. How could I thank you enough for this?)
Rang-rang sohne-sohne chun ke ve
Phir muh di bunti bun ke ve (x2),
Rab tere mere sanjoga nu suyi dhaage naal seeta ve,
Menu ais janam vich tu milya, hou pishle janam pun kita ve (x2).
Hath fad ke phul gulab'an de
Khaure darshan hon janab'an de (x2),
Tainu supne de wich labde aan,
Langh gaye si saal 17 ni,
Zindagi wich diti thaan mainu, tera kiddan shukar guzara ni,
Mainoo es janam wich tu mileya, hou pishlay janam pun keeta ve.
MAINU IS JANAM VICH TU MILEYA SONG LYRICS