Tu Na Jaane is another enjoyable song with romantic lyrics, hummed by Hardy Sandhu. Ishqaa is the Punjabi film that features this lovely tune. Maninder Kailey is songwriter and Money Aujla is director of track music.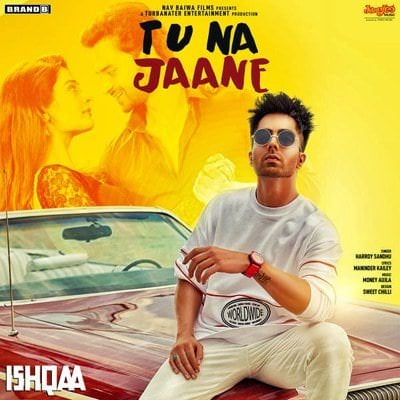 | | |
| --- | --- |
| Album | Tu Na Jaane (From "Ishqaa") – Single |
| Actor(s) | Nav Bajwa, Payal Rajput |
| Music Director(s) | Money Aujla |
| Performer, Songwriter | Maninder Kailey |
| Vocalist | Harrdy Sandhu |
TU NA JAANE SONG LYRICS | ISHQA MOVIE
Mere dil di tu na jaane,
Tere dil di main ta jaana (x2),
Sari-sari raat na neend na chain mainu,
Band kar akhiyan main gal lagga kehn tainu,
Tere bina mere kolon reh naiyo hona hun door,
Sochan wich baithe asi dubb ke oh hazoor,
Ishq ne sikhya ae aashiqan nu bas tadpana,
Mere dil di tu na jaane,
Tere dil di main ta jaane (x2).
Naam tera hi laindi har dum,
Meri eh zubaan,
Dil mera te dhadkan teri,
Tuhi mera jahaan,
Ki laina main duniya kolon,
Tu mera jag sara,
Ya khuda tere pyar da mainu,
Mil jaye kaash sahara,
Tere bina sunna-sunna
Tere naal mausam suhana,
Meray dil dee tu na jane,
Teray dil dee main ta jane (x2).
Shayari,
Izhaar je main kar deyan, mehram nu likh ke arzi,
Ajj aashiqan nu puch ni aan, ishq kolon marzi.
Mainu meri hosh na koyi, tu meri aas,
Tere baajon risht koi na mainu lagda khaas,
Ki-ki karda teri khatir tainu pata na koyi,
Aap vekh lai haalat meri, hun kaisi ae hoyi,
Sanu teri lod bas tere bina mar-muk jana.
Mere dil di tu na jaane,
Tere dil di main ta jaane (x2).
The cheerful duo of Nav Bajwa and Payal Rajput from their Punjabi film "Ishqaa" are starred in music video of "Tu Na Jaane" performed by Harrdy Sandhu.