Tutak Tutiya is a upcoming Hindi horror-thriller film which is co-composed and is directed by by A. L. Vijay. The movie films Prabhu Deva, Tamannaah and Sonu Sood in the lead roles. The film is scheduled to be released on 7 October 2016 across the globe.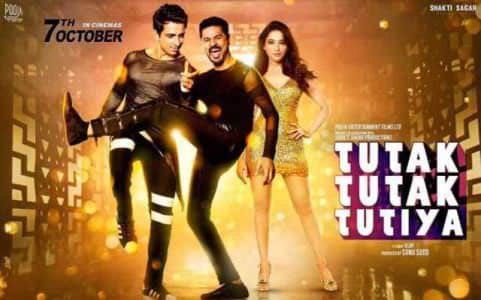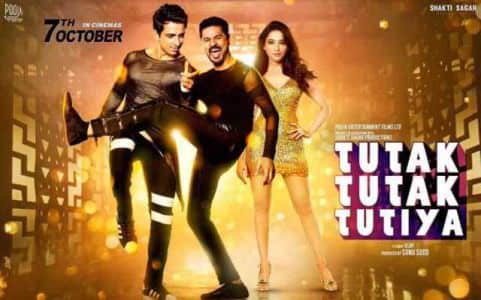 Tutak Tutak Tutiya Movie Wiki Info:
Movie Name: Tutak Tutiya (2016) – [Titled as Devi in Tamil, Abhinetri in Telugu]
Directed by: A. L. Vijay
Produced by: M. V. V. Satyanarayana, Kona Venkat, Prabhu Deva, Sonu Sood, Radhika Chaudhari, Deepshika Deshmukh, Dr. K. Ganesh
Written by: A. L. Vijay  | Story by: A. L. Vijay, Paul Aaron
Starring: Prabhu Deva, Tamannaah, Sonu Sood
Music Producers: Sajid-Wajid  | Background score: Gopi Sundar
Cinematography: Manush Nandan  | Editors: Anthony
Production company: M. V. V. Cinema, Kona Film Corporation, Prabhu Deva Studios, Shakti Sagar Productions, Blue Circle Corporation, BLN Cinema
Tutak Tutak Tutiya Full Movie Release dates: October 7, 2016
Film Distributed by: Puja Entertainment Films (Hindi)  | Country: India
Languages: Hindi, Tamil, Telugu
Tutak Tutiya Theatrical HD Trailer Watch Now
Tutak Tutak Tutiya Movie Songs Tracklist
1. Rail Gaddi
Swati Sharma, Navraj Hans, Lil Golu
2. Chal Maar
Wajid
3. Tutak Tutak Tutiya
Malkit Singh, Kanika Kapoor, Sonu Sood
4. Love The Way You Dance
Jazzy B, Sonu Sood, Millind Gaba
5. Chalte Chalte
Arijit Singh
New Bollywood movie Tutak Tutak Tutiya Wiki info star cast HD trailer release dates of Tutak tutiya film songs with wallpapers and posters.