Spy Bahu (TV Serial) Written Updates | Colors TV | Episodes
An Indian television espionage series called Spy Bahu airs on Colors TV. under the direction of Viniyard Films, which Ashvini Yardi owns. Sana Sayyad and Sehban Azim are its stars, debuting on March 14, 2022.
To portray the role of Sejal Kotadia, Sana Sayyad was recruited. Sehban Azim will play the role of Yohan Nanda. Wasim Mushtaq made his debut in the program in April 2022, playing the role of Abhishek.
We want to provide you with written updates and links to newly released episodes of your favorite television program, Spy Bahu, daily.
SPY BAHU TV SERIAL ALL STAR CAST NAMES WITH IMAGES
Sana Sayyad
as Sejal Kotadia Nanda
Sehban Azim
as Yohan Nanda
Wasim Mushtaq
as Fareed Mirza Sharif and Aayat's biological son
SPY BAHU TV SHOW ALL EPISODES | WRITTEN UPDATES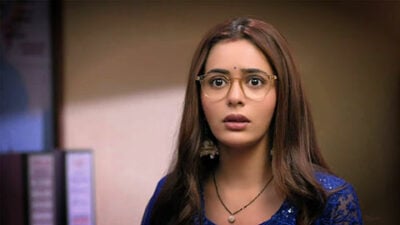 September 27, 2022
Sejal discovers Yohan was misinformed and forced to move hotels. Inspector speaks with the lawyer hired for Ahana and assures her she will get all…
September 23, 2022
The episode begins with Sejal asking Veera how she could imagine that with Bappa in the home, anything bad would happen. Arun accuses her of…
September 21, 2022
Sejal, together with Drishti and Shalini, looks through the puja materials in an effort to uncover something buried there that Veera may utilise for her…
Storyline: The show features a female spy who falls for a terrorist on a mission. Young Mahira plays with her brother and pals in Kashmir. Moments later, her father gets a call and sends his wife and kids inside. Terrorists accuse him of collaborating with Indian intelligence. He and his mother are killed. Mahira's mother conceals her and urges her to block her eyes and ears. Mahira's mother goes out and is slain; her brother Fareed is abducted. Several hours later, an intelligence officer discovers Mahira and brings her to Ahmedabad, where she's adopted. Now she's Sejal. Sejal grows up clumsy and forgets her family. Her new family loves her despite her clumsiness. The spy who rescued her wants her to spy for him. Sejal recalls her youth while on vacation in Kashmir. She imagines her younger self and follows her to a mosque, where she encounters an intelligence officer. She refuses to spy for him. She meets suspected terrorist Yohan afterward. Sejal becomes a housekeeper to spy on Yohan Nanda. She helps Drishti marry Abhishek. Later, Abishek becomes Fareed. Sejal matches Yohan on his wedding day with Alisha Kapoor to continue her espionage assignment. As part of the task, she severs all links with Kotadias. Alisha's brother later attempts to abuse Sejal sexually, but Yohan protects her. Arun Nanda is kicked out of the home, and her husband follows her. Terrorists assault Sejal and Yohan's hotel in Mumbai. Yohan takes a bullet for Sejal, proving he's not a terrorist. Sejal feels sorry about Yohan's injury and cares for him. Yohan's confession to Sejal sparks their love. Mr. Shah helped terrorists; they learned.