Uchiyaan Dewaraan Lyrics AKA 'Baari 2 Song' is a continuing version of the iconic Punjabi song by Bilal Saeed and Momina Mustehsan. Get the English translation of the stanzas of this pleasing track. The verses for the latest love song, Main Suneya Uchiyan Dewaran Rakhiyan, were also written by Bilal Saeed. Below is the Punjabi meaning of the song's lyrics.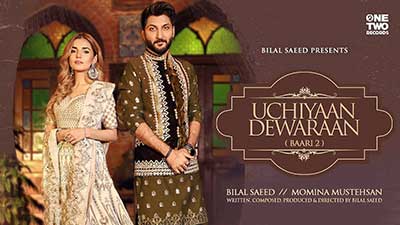 | | |
| --- | --- |
| Song: | Uchiyaan Dewaraan [Baari 2] |
| Artist(s): | Bilal Saeed, Momina Mustehsan, Hamid Ali Naqeebi |
| Lyricist(s): | Bilal Saeed |
| Composer(s): | Bilal Saeed |
UCHIYAN DEWARAN BAARI 2 SONG LYRICS ENGLISH MEANING BILAL & MOMINA
Kadi Tu Es Gali De Hi Agle Mod Te Milda Si
Tainu Khabar Si Sari Ke Haal Jo Mere Dil Da Si
Tu Bhul Gaya Sareyan Oh Galan Te Main Na Bhulli Ve Sajjna
Ke Ajj Mainu Vekh'ke Ve Hath Te Tere Cha Dulli Na Sajjna
There were times when you met me around the corner of this very street.
You were also very well aware of the condition of my heart.
You may have forgotten all of this, but I haven't forgotten it, dear.
Although today, like old times, you didn't spill the tea on your hands out of excitement, after you saw me.
Vekhi Teri Wafa Sajjna Bhull Gayi Si Main Raah Sajjna
Jandi Jandi Kho Gayi Sah Khaba De Vich Tere
Main Tahin Uchiyan Deewaran Rakhiyan Is Dil De Char Chufere
Nale Sambh Ke Rakhiyan Si Koi Dil Ch Na La Le Dere
Seeing your faithfulness, I forgot my way, sweetie.
And I lost myself in your dreams while I was leaving.
That's why I've kept the walls high and firm around the boundaries of my heart.
I kept my heart in safekeeping so that nobody could come into my heart and stay in it.
Han Mera Pehlan Vi Dil Tuteya Phir Todeya Tu Ik Wari
Kyun Dil Di Deewaran Te Main Tere Layi Banayi Bari
Earlier too one time, my heart had been broken. Then again, you broke it.
Why did I build a door (entrance) in my heart's walls and allow you to my heart?
Ajj De Hoyi Si Shururat Sohniye
Badal Gaye Kyon Jazbat Sohniye
Bura Mere Dil Wala Hal Kita E
Jo Tere Nal Hoyi Mere Nal Kita Hi
It was only the start, O lovely one.
Why have your emotions changed?
In a miserable situation, you put my heart.
You did the same thing to me that someone you loved earlier did to you.
Kise Gall Te Je Tainu Koi Shaq Si
Puchh Lendi Mere Kolon Tainu Haq Si
Ik Wari Mera Na Khayal Kita Hi
Jo Tere Nal Hoyi Mere Nal Kita E
If you had any suspicions about my love,
you could have asked me about it; you had rights to me.
You haven't even thought about me for once.
You did something very similar to me that somebody else you loved had done to you previously.
Ishq Di Bedi Lave Hulare Chalde Nai Phir Dil De Chare
Dubke Hi Bas Milan Kinare Tar Jande Jo Rain Vichare
Aundiyan Jad Ishq Baharan Chhid Jande Ne Meg Malaraan
Khul Jandi Ye Dil Di Bari
Kar Lai Bhavein Uchiyan Deewaran
When the boat of love is swaying, there is no control over the heart.
One can only get to the shore after sinking.
One who's afraid to dive, he's never going to the shore.
When the love season comes, the clouds start to sing melodies, too.
The doorway of one's heart is opened automatically, even if you have high walls around it.
Uchiyan Deewaran, Ho Dil Diyan Uchiyan Diwaran
Ishq Dil Diyan Uchiyan Diwaran,
Kar Lao Bhawein Uchiyan Diwaran
The high walls! The high walls of the heart!
The high walls of love!
Even if you protect your heart with high walls!
Tere Layi Te Sari Duniya Nal Lad Lange
Tu Jiye Te Teri Ayi Aap Mar Lange
Ho Tu Jiye Te Teri Ayi Aap Mar Lange
Tu Jiye Te Teri Ayi Aap Mar Lange
I can even fight for you against the world.
Even if it's your time to go instead of you, I can happily give my life and die for you.
Even if it's your time to go, I may gladly give my life for you and die instead of you.
Main Karke Uchiyan Deewaran Rakh Lan'gi Dil De Char Chufere
Nale Sambh Ke Rakh Lan'gi Tainu Dil Ch Chhupa Ke Mere
Han Mera Pehlan Vi Dil Tuteya Na Todi Phir Ik Wari
Is Dil Deewaran Te Main Tere Layi Banayi Bari
I'm going to build high walls around my heart and keep you safe in my heart.
I have had my heart broken once before, as well. Please don't break it again.
I've kept a doorway through my heart's walls.

Uchiyaan Dewaraan Music Video | Baari 2