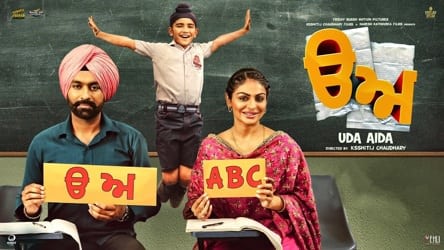 Uda Aida Title Track Lyrics from latest Punjabi movie of Tarsem Jassar and Neeru Bajwa is likable song. Inspiring lyrics of song are also penned and sung by Tarsem Jassar. R Guru is music composer of "UDA AIDA" track and Vehli Janta Records publishes it.
UDA AIDA TITLE SONG LYRICS | TARSEM JASSAR
Dasd maayein ki ne kikkar hunde,
Akkan de patte ki hunde,
Missiyan rotiyan naal gande de,
Ah pone banne ki hunde,
Das banaa ke mainu akaar ki
Peecho paarhe da.
Ik kaida laide bebe
Mainu ooday aiday da (x2).
Sooye di dubki paani diyan chhallan,
Ki hunde laane kyon paindiayn allan,
Jede ghulde kushti khurak ki mallan,
Ki hundi sateeri ki hundiyan ballan.
Chad ke bhasha hor koi gurmukhi pahaade da.
Ek kaida laide bebe mainu ooda aide da (x2).
Maiyan sade hunda khali,
Meri maa boli de kine maali,
Kayi puratan kayi samkali,
Baba nanak sada baali,
Ehnu bolan de wich sharam na kariye
Gall sade baarre aa.
Ik kaida laide bebe mainu ooday aiday da (x2).
Daadi diyan baatan kothe sauna,
Lala khana ghalaadi launa,
Baaji hona da sanu kehna chauna,
Ajj ohna sir jassar da hona,
Seyaneya diyan gaalan gheyo diyan naalan,
Saar ae saale da.
Ikk qaida laide bebe mainu oorhay aarhey da (x2).
Here is latest song Uda Aida by Tarsem Jassar with music direction of R Guru and videography of Ksshitij Chaudhary.