Underground song lyrics with vocals and Punjabi verses of artist Geeta Zaildar featuring Punjabi music beats of Western Penduz releases recently.Saaz Records publish the track.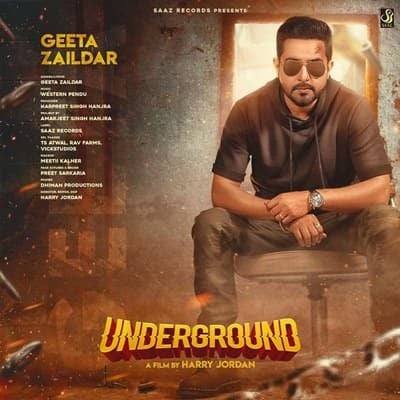 Name of Song: Underground (Punjabi)
Singer: Geeta Zaildar
Lyricist: Geeta Zaildar
Music Director: Western Penduz
Label: Saaz Records
GEETA ZAILDAR | UNDERGROUND SONG LYRICS
Jehde Bande Lende Aa Najaij Feeling-An,
Ohna Nal Jatt Karda Ni Dealing-An,
Velliyan De Laaney Cho Kahaunda Gabru,
Choti Deya Velliyan Ch Aunda Gabru,
On The Spot Banda Thok Dine Aa,
Deadbody Hundi Nahiyo Found Magro'n,
Jithay-Jithay Assi Vardaatan Kitiyan
Kilo-Kilo Labde Si Raund Magro (X2).
Laike Puraani Range 18 Lakh Di,
Fukri Paneeri Ainve Fire Tappdi,
Painda Aa Doabe Wich Pind Jatt Da,
Likhe Na Report Sade Laye Takk Di,
Jede Sade Nal Khar Khaake Fame Bhalde
Kar Daiye Underground Magro,
Chawle Tainu Hi Keha!
Jithe-Jithe Asi Vardat'an Kitiya,
Killo-Killo Labde Si Raund Magro (X2).
Ho Gym Kare Calorie-An Burn Bilo,
Zaildar Huni Vaddi Firm Bilo,
Uchiyan Haweliyan Jaye Uche Rutbe,
Ajj Vi Subha Aa Pooray Garam Billo,
Mitran Naa' Pecha Kitte Paa Na Layin,
Gun'an Di Sunugi Fer Sound Magro,
Jithey-Jithey Asi Vardaat'An Kitiyan
Kilo-Kilo Labde Si Rond Magro (X2).