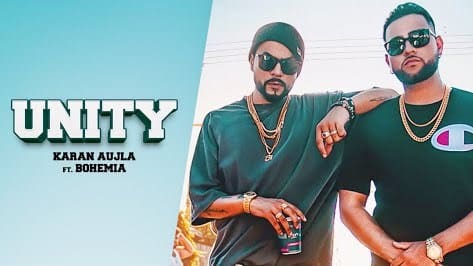 UNITY LYRICS – This is a just released Punjabi song performed by "Karan Aujla" and "Bohemia" with music production very admirably done by Deep Jandu. The finely created music video of entertaining song "Unity" is directed by Rupan Bal and Rehaan Records have released it.
NEW SONG UNITY PUNJABI LYRICS – BOHEMIA, AUJLA
Yaara teri sohn
Mere yaar hathyar sare rakhde bro,
Yara teri sohn,
Landu bandeyan nu baahr sare rakhde bro,
Keete kaare dilon maade wajde
Loki kehnde bande theek nai
Pehle week aithe launde yaariyan
Tod dinde duje week ni,

Oh yaari laayi naiyo dekh ke religion kade,
Judge kareya ni kise da vi vision kade,
Caste kise di othe matter ni kardi,
Raat dekh laye ni decision kade.
Oh kahton naal khade lakhan da,
Aakhir de wich bas moddey hone chaar ne,
Jatt de crew ch sare dharma de yaar ne -x4,
(karde jo cheat oh group wichon bahar ne),

Yaara teri sohn,
Mere yaar hathyar saarey rakhde bro,
Yaara teri sohn,
Landu bandeya nu baahr sare rakhde bro.
Kache ghar ne pakke vaade,
Yaaran utte faith ne zyaade,
Yaar tunkeya ban gaye jatt de,
Jinu jithe marji laa de.

Table te baith ke na rate dekhde,
Yaar di na pocket ch weight dekhde,
Kayi samjhaunde velly gallan naal ne,
Kaiyan nu ne aunde fire pairi maarne.
Jatt de crew ch sare dharma de yaar ne -x4.

[Bohemia's rap verse]
Maine jadon mera sangeet kita shuru,
Odon kalla si main jiwe hunda one man crew,
Odon jung hathyaran de naa' kini vaari kalle larhe,
Munde phone chakkan bande sadhan
Appan kalle khade,
Appan din bhaide katte,
Pishe naiyo hattey
Bai ajj dekho bande kine naal mere kathey.

Uh! Rab di mehar
Mainu laana painda zor nai,
Mainu rapstar aje vi mera tod nai,
Par ohna gallan te kadi maan ni kita
Sachi yaariyan ton vadh sade vaaste kuch hor nai -x2.
Sir down ne link up ne,
Hathan de wich red cup ne,
Cheetay warge launde gerhi
Khuddan de wich varhde sapp ne,
Bina advice laye pattde na ding ne,
Paadeyan ch 'saan yaar
Chess wich king ne,
O karde na yaari ch corss-face oye,
Tahin na group'an wich painde paarh ne.
Jatt de crew ch saarey dharm'an de yaar ne -x4,
(Karde jo cheat oh group vicho bahar ne).
Yara teri sohn, mere yar hathyar sare rakhde bro,
Yara teri sohn, landu bandeyan nu bahar sare rakhde bro.
Outro.
Find out more Punjabi Songs like '' from Bohemia, Deep Jandu, Karan Aujla.