Read the lyrics of Vaa Chellam Song from Pon Magal Vandhal film Ft. Jyotika. Govind Vasantha is the composer, Brindha Sivakumar singer of Vaa Chellam lyrics that you may read below.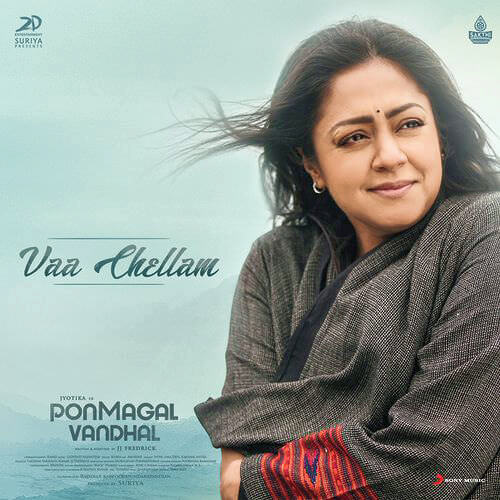 | | |
| --- | --- |
| Song Name: | Vaa Chellam |
| Album: | Pon Magal Vandhal |
| Singer(s): | Brinda Sivakumar |
| Lyrics Writer(s): | Vivek |
| Music Director(s): | Govind Vasantha |
| Music Video Director: | JJ Fredrick |
| Music Video Features: | Jyothika, R. Parthiepan, K. Bhagyaraj, Pratap Pothen |
| Record Label: | Sony Music South |
PON MAGAL VANDHAL | VAA CHELLAM FULL SONG LYRICS
Va Chellam En Vazhka,
Parisa Thandha Poove,
Thayaga Enna Petha, Thaye Vadi,
Nee Ketta En Usura,
Pala Tharen Poove,
Nee Neendhathan Kaigal Konden, Vadi,
Kodi Kangalum Podhadhu,
Azhagana Un Mogam Pakka,
Varam Vangi Vaikkave, Kai Podhadhe,
Nooru Vanavil Podhadhu,
Una Pola Ooviyam Theetta,
Podhum Pillai Vasam Mattum, Podhum Vadi,
Nadavandi Sirippakkatti,
Nee Dhan Enna Nadakka Vacha,
Panikatti Kannakkatti,
Nee Dhan Sogam Marakka Vacha,
Sinungal Pol Edho Senju,
Nee Dhan Enna Karaya Vacha,
Poga Pora Vazhiyil Ellam,
Nee Dhan Inbam Pozhiya Vacha,
Kalam Varai Nee Dhane,
Kaval Vara Nan Dhane,
Va Thoranamey,
Azhage, Karanamey.

Vaa Chellam is a lively song from Jyothika Saravanan's upcoming Tamil movie titled as "Pon Magal Vandhal." Vivek is writer of the sensible Tamil lyrics and Govind Vasantha has composed the engaging music for it. Brindha Sivakumar is the female vocalist who lends her compelling vocals for Vaa Chellam track lyrics.