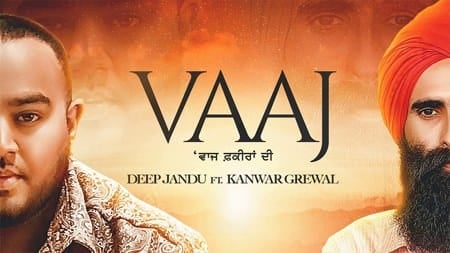 VAAJ LYRICS – An interesting collaboration from duo of Deep Jandu and Kanwar Grewal, is a blend of Sufi & Hip-Hop music brought together. This Punjabi song has been very-well written by Karan Aujla. JAYDEE (BridgeLine Studios) films MV of tune and it releases today.
Singers: Kanwar Grewal, Deep Jandu
Album / Song Name: Vaaj (Punjabi)
Music Director: Deep Jandu
Lyrics Writer(s): Karan Aujla, Kanwar Grewal
Label: Royal Music Gang
LATEST FULL SONG VAAJ WITH LYRICS
[sargam]
Ni 'waaj fakeeran di,
Sun lai kuday chit laake -x3.
(meaning of english: hey girl, Pay some attention & listen saints' voices .)
Ajjkal khedi jandi game ae,
Bande di image ohda name ae,
Soch nu badal dindi fame ae,
Chamdi ta Aujleya sareyan di same ae,
Door eh door'an de naal hun naiyo arhde,
Muhan uttay mask pyar'an wich parde,
Bani ae samasseya ki jihde pishe sarhde,
Jealousy ae eni kiwe dassan gall shad de,
Ohi ae ni duniya te daari ajj vi,
Ik hath naa' na wajje taadi ajj vi,
Ranjha hun koi na charaave majhiyan
Heer khaure kahton wajje maarhi ajj vi,
Rooh wichon na jaau gadaari, sau vaari ni naa' ke.
Nee 'vaaj fakeeran di,
Sun lai kuday chit laake -x3.
Oh pakki aa, pakki aa gall dina likh ke,
Jarhon jede khokhle na kade tikde,
Jina nu sikhao ethe teer fadna,
Thodday vinnde nishane sikh ke,
Thand kithe paunde sarhe kaalje thodde aa,
Jede aa close sachi vairi ohi thodde aa,
Odon banda shad da ae sariyan chalakiyan
Jado pata lagge hun marhiyan 'ch godde aa.
Khaure kadon haq aale raas aun ge,
Net uttay ban-ban das aun ge,
Sadi jithay lagni aa mehfil kuday,
Aini gal othay banday khaas aaon ge,
Sach seyane keh gaye aundi akal ae dhakke kha ke.
Ni 'waaz fakiran di sun le kudey chit laake -x3.
Wich Toronto ban'de gaane
Munda Jandu'a da saaz wajaave,
Jammeya te Deep vi wich Canada,
Par Moga da bhulekha paawe -x2.
Waang bazurgan de karda gallan,
Vekh layi phone milaake.
Nee vaaj fakeeran di,
Sun lai kuday chit laake -x3.