Sidhu Moose Wala's Vaar Lyrics and English Translation: It's a revolutionary and magnificent Punjabi song. Snappy is the mastermind of beautiful music. Sidhu Moose Wala summarizes the seductive Var Punjabi lyrics of the canto with meaning in English. Navkaran Brar is in charge of the engaging poem's sweet-tempered music video.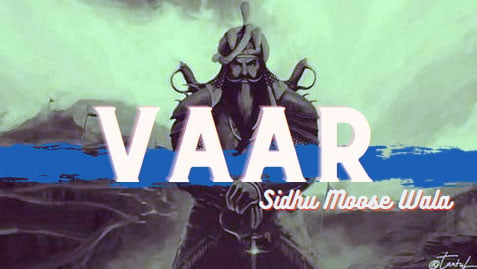 SIdhu Moose Wala Punjabi singer's team has recently launched his new song today. The remarkable song's title is 'Vaar.' The song is in fact an homage to Hari Singh Nalwa, the Commander-in-Chief of the Sikh Khalsa Fauj, the Sikh Empire's army. Get the exciting lyrics to Sidhu Moose Wala's most recent Punjabi song, Vaar, with English translation. The lyrics are written by the singer Sidhu Moose Wala.
VAAR SONG LYRICS ENGLISH MEANING
Nalwa Sher Puttar Dashmesh Da, Soora Sikh Panth Di Shan Ae,
Hari Singh Nalwa, a faithful disciple of the tenth Sikh Guru Gobind Singh (who was called Dashmesh.) He was a real warrior and an icon of the Sikh religion.
Shota Vi Sher Punjab Da, Ni Dhadak Jarnail Mahan Ae,
Even the younger one is the Punjab's lion and a superb army general.
Jussa 7 Foot Chobbar Darshni, 7 Foot Chobbar Darshni,
He stood seven feet tall.
Moddhi Sikh Faujan Di Shan,
He was the Commander-in-Chief of the Sikh Khalsa Fauj, as well as their honor.
Ohji Sisat Ton Thar Thar Kambde, Bande Soore Khabbi Khan,
Other skilled fighters were terrified of him and would shiver anytime his name was spoken.
Ohde Hath Vich Khanda Dekh Ke, Banh Suthna Khade Pathan,
When his foes saw him with his weapon, Khanda, they disguised themselves as women to avoid him.
Oh Roop Hai Dooja Kal Da, Roop Hai Dooja Kal Da,
When he showed his anger in the battle field,
Jadon Warda Vich Maidan,
He was simply another form of death itself.
"Afghana De Mana Vich Aidda Dar Siga, Afghana Ne Salwaran Pauniya Shuru Kar Dittiyan Si, Ke Assi Aurtan Laggage, Aina Dar Gaye Si,
His opponents were so frightened of him that they used to disguise themselves as ladies in order to avoid him.
Edaan Da Pehrawa Jo Pehrawa Ohna Nu,Ehde Atank Ton Bacha Sakda Si,
And they believed that this was the outfit that would save them from his wrath."
Ohde Barshe Muhre Diggde, Ki Muhamad Te Ki Khan,
His opponents were all no match for his blade.
Vairi Foot-Foot Pishe Sittda, Jadon Marda Ik Nishan,
When he strikes, his opponents tumble back.
Jeyon Fasal Wadde Kirsan Bai, Fasal Wade Kirsan Bai, Oho Wadda Injh Afgan,
He slices his opponents as a farmer cuts his produce.
"Ajj Vi Duniya Mann'di Ae Na, Australia Di Jedi Akhbar Ne, Pishe Je 12 Jarnailan Di Gal Kiti Si Ohde Ch Hari Singh Nalwa Da, First Name Si, First Name! First Name! Sidhu Moose Wala!
Even today's world recognizes it. A newspaper in Australia recently published a list of the best army generals of all time, and Hari Singh Nalwa topped the list."
Vaar Punjabi Music Video | Sidhu Moose Wala
Check out the freshly released music video for Vaar with darling lyrics nicely hummed by Sidhu Moose Wala.
Vaar Song Details
Track
Vaar
Artist
Sidhu Moose Wala
Lyrics
Sidhu Moose Wala
Instrumentalist
Snappy