Varlam Varlam Va Lyrics (AKA Varlaam Varlaam Vaa song lyric) is energetic from Keerthy Suresh & Vijay's latest Tamil movie Bairavaa which is directed by Bharathan. The song with is sung by Roshan Jamrock & Arunraja Kamaraj while lyrics are set up by both artists.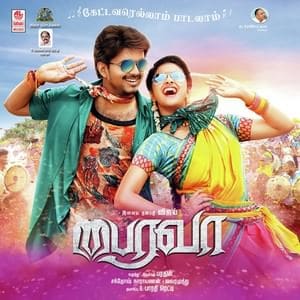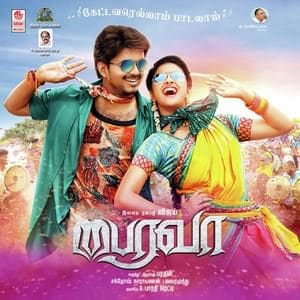 Album/Movie: Bairavaa
Artist Name: Vijay, Keerthy Suresh, Aparna Vinod, Jagapathi Babu, Daniel Balaji, Sija Rose, Thambi Ramaiah
Singer: Roshan Jamrock, Arunraja Kamaraj
Music Director: Santhosh Narayanan
Lyricist: Roshan Jamrock, Arunraja Kamaraj
Music Label : Lahari Music
BAIRAVAA – VARLAAM VARLAAM VAA SONG LYRICS
Yara yara ivan,
ooraketta theriyum,
paara munna vandhu,
ninnu paara puriyum.
Koora nikkum kathi,
kannukulla minurum,
thaaru maara gilli,
peraketta adhurum.
Varlaam varlaam vaa
varlaam vaa bairavaa (x2).
Mothum paara kooda,
manna maari pogattum,
vaazha thaara pola,
onna sendhu vaazhathum.
Seerum kaala ivan,
kombil kuththi saikattum,
oorum paasam ellam,
nalla kaala thukkatum.
Varlaam varlaam vaa (x4),
bairavaa.
Pull up in the middle with a little bit,
of range and a gas full pf vengeance,
gotta put a cap on my anger
keep cool!
Gotta handle this whole situation,
How the hell old I end up here?
Third eye blind now third eye clear,
greedy money making machines,
corrupt and violent,
time for 'THALAPATHY' to break the silence.
Self interest of a few the only reason,
you and me going through,
what we go through,
divide and conquer evil mans game.
We don't wanna play (x2),
used to get by doing bidding for the mam,
now enlightments come my way,
shut down the system make my way,
shut down the system follow me follow me.
Varlam varlam vaa
varlam vaa bairavaa (x2).
Pasathukke thathupulla thalapathi da,
nesathukke endrum ivan athipathi da (x2),
varlaam varlaam vaa (x2).
My first for payback is about to be quenched,
follow free like water like BRUCE LEE's revenge,
wolf in sheep clothing see the fake posing,
make 'em all disappear like 1000's.
Varlaam varlaam vaa,
varlaam varlaam vaa (x3).