"Veeran Thiruvizha", with a translation of its lively lyrics, is a vibrant Tamil song that brings together an ensemble of talented singers, including Chinnaponnu, Hiphop Tamizha, Muthu Sirpi, and Pranavam Sasi. The lyrics, penned by Muthamil, beautifully capture the essence of devotion and celebration. The song is a joyful ode to the heroic figure, the saviour, and the problem solver.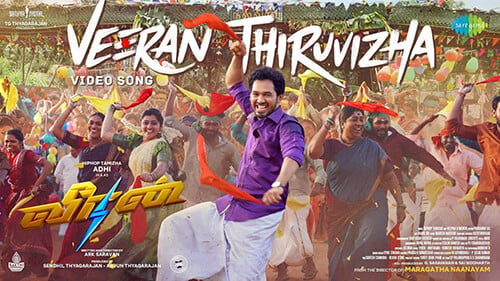 The energetic composition by Hiphop Tamizha adds an infectious rhythm that will make listeners tap their feet and immerse themselves in the festive spirit. Fusing traditional elements with contemporary beats creates a unique and captivating musical experience. It's a testament to the creative brilliance of Hiphop Tamizha as a composer.
The lyrics of "Veeran Thiruvizha" are filled with devotion and reverence, portraying the act of worship and offering to the heroic figure. The song celebrates the unwavering faith and love of the devotees, expressing their gratitude and willingness to give their all for their hero. The lyrics evoke a sense of unity, strength, and protection, creating an uplifting and empowering mood.
VEERAN TAMIL MOVIE · VEERAN THIRUVIZHA SONG LYRICS ENGLISH MEANING
Kumbam Vilakki Vachi Guru Poosa Aguthunu
Thinking that Guru Puja was taking place, we washed and cleaned the pot.
Karagam Vilakki Vachi Gana Poosa Aguthunu
Thinking that respect puja was being performed, we washed and cleaned the pot.
Unaku Manga Illaneer Andha, Manam Pudikum Endru Solli
Thinking that you love the smell that of Mango Juice
Unaku Thenga Illaneer, Thevuru Adikum Endru Solli
Thinking that you will get the smell that of coconut Juice
Unaku Kumbala Illaneer, Kondu Vanthom Poosaiyinu
Thinking it is worship, we brought coconut water for you
Indha Poosa Mugam Paka, Anga Purapattu Nee Ellumbu
You start and get up there to see the worship here!
Nei Villaku Ethi Vachi Kumbudurom Veerane
We lit a ghee lamp and bow down, in front of you our Hero
Nellu Mani Eduthu Vandhom Ethukanum Veerane
We brought paddy seeds, accept it our Hero
Nethu Kaya Odaichu Vachom Unakena Veerane
We plucked out the fruits yesterday for you our Hero
Mukkaniya Parichu Vandhu
We plucked out and brought here these three types of fruits…
Samy Mulusa Padaiyalittom
God… we have completed submitted
Samy Unaku Kattu Pattu
God…obeying you…
Samy Usura Kuduthu Nippom
God… we will give you our life for you
Samy Uthira Thilagamittu
God… placing blood Tilakam
Arupadai Veedu Konda Thirumurgan Avan
He is the ThiruMurugan who has six temples as house
Thalapathiyam Veeran Ivan
He is the Hero of Prince…
Kuraikalai Odi Vanthu Theerkindaravan
He is the one who quickly solve our problems
Alamaram Pola Nindru Kakum Ivan
He protects us by spreading like a Banyan tree…
Uchi Mugatha Thala Katti, Osandhu Nikkum Maveerane
Great hero who stands with his head held high…
Pancham Parandhu Bayanthodum, Avan Parvai Patta Pothum Magane
Famine will run away being afraid, If he just see, that is enough son…
Vizhi Kathu Mozhi Kathu Vazhi Kodupa
The one who never sleeps, fulfills the promise, leads…
Irulana Ulaguku Oli Kudupa
Spreads light for this dark world…
Santhanatha Nee Poosi Mugam Siripa
You will apply sandal on your face and you will smile.
Sankadatha Thoosiyaki Neruperippa
You will turn sorrow into dust and burn it in fire…
Thikku Dhesai Engum Yammakaga, Thimiri Nirkkum Maveerane
O hero who stands for us in all directions…
Suthi Muraikkum Padaikethira, Puravi Eri Nee Va Soorane
Against the army that stares around us… Trample and thresh, come forth, O mighty one…
Samy Nei Vilakku Ethi Vachu
God… We lit a ghee lamp and kept…
Samy Nellumani Eduthu Vanthom
God…We brought paddy seeds…
Samy Nethukaya Odachu Vachom
God…We plucked out the fruits yesterday
Samy Mukkaniya Parichu Vanthu
God…We plucked out and brought three types of fruits
Ahh Veerane Veerane Veerane Ma Veerane
Oh… our Hero… our Hero…
Odi Va Thedi Va Adi Va Nee Veeran Ahh
Come fast… come to seek… come dancing… you hero ah…
Odi Va Thedi Va Adi Va Nee Veeran Ahh
Come fast… come to seek… come dancing… you hero ah…
Samy Veerathi Veerane Soorathi Soorane,
Hero of the Heroes… Mighty of the mightier…
Ennai Kappavane Vennai Theerpavane
The one who watches over me… Problem solver…

Veeran Film's Veeran Thiruvizha Music Video | Hiphop Tamizha
The music video, directed by Ark Saravan, promises to be a visual spectacle, bringing the song to life with vibrant colours, lively choreography, and captivating performances. The presence of Hiphop Tamizha in the video adds an extra layer of excitement and anticipation for fans of the duo.