HD Theatrical Trailer of Vekh Baratan Challiyan Punjabi Film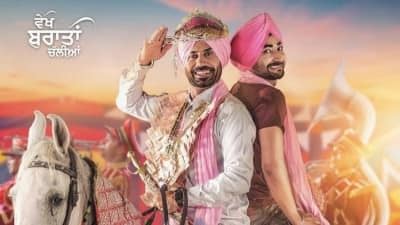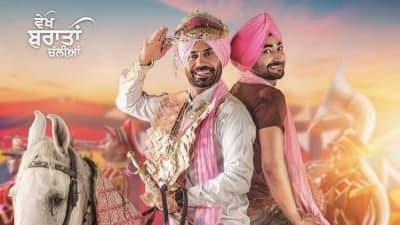 Vekh Baraatan Challiyan is name of a latest Punjabi movie starring Binnu Dhillon & Kabita Kaushik in lead roles. Here you can get release dates, wiki info of Ranjit Bawa new film vekh baratan challiyan.
Title of Film: Vekh Baraatan Challiyan [2017]
Star Cast : Binnu Dhillon, Kavita Kaushik, Jaswinder Bhalla, Karamjit Anmol, Govind Namdev, Mukesh Bhatt, Mithila Purohit
Special Appearance: Amrinder Gill, Ranjit Bawa
Genre: Comedy, Musical, Drama
Director: Ksshitij Chaudhary
Producers: Jaspal Singh Sandhu, Amiek Virk & Karaj Gill
Story Writers : Naresh Kathooria
D.O.P. : Parixit Warrier
Associate Director : Deepak Thaper
Associate Producer : Tung Films, Next Level Productions & 7T-One Films
Film Songs Music Composers: Gumroh | Lyrics Writers : Bir Singh
Editors : Manish More
Art Director : Baban K Kharat
Post Production Controller : Varun Bansal
New Vekh Baraatan Challiyan  Full Movie Release Dates: 28th July 2017
Line Producer : Virasat Films
Visual Promotions : Just Right Studioz
Poster Design : Vitamin V
Costumes : Nitasha Bhateja
Chief Accountant : Gurneet Singh Sandhu
Special Thanks : Yuvraj Tung, Jaikar Virk, Govinder Mavi, Tegvir Dhillon, Rahul Sharma, Neeraj Ruhil, Subhav Sharma & Manjot Dullat
The brand new Punjabi film Vekh Baraatan Challiyan Wikipedia, star cast of Binnu Dhillon's vekh baratan chaliyan film release dates with songs, story, HD trailer & posters.
Track List
01. Laari – Bir Singh
02. Sukh – Amrinder Gill
03. Noonh Labhni – Ranjit Bawa