Velmuruka Haro Hara song from the Malayalam movie 'Naran' featuring Mohanlal has excellent lyrics and a awesome English translation with lyrics sung by M. G. Sreekumar. The elegant lyrics of the 'Velmuruka Harohara' jingle were penned down by Kaithapram Damodaran. Deepak Dev was the fabricator of VELMURUKA HARO HARA's scenic music. The flamboyant music video of the theme was guided by Joshiy.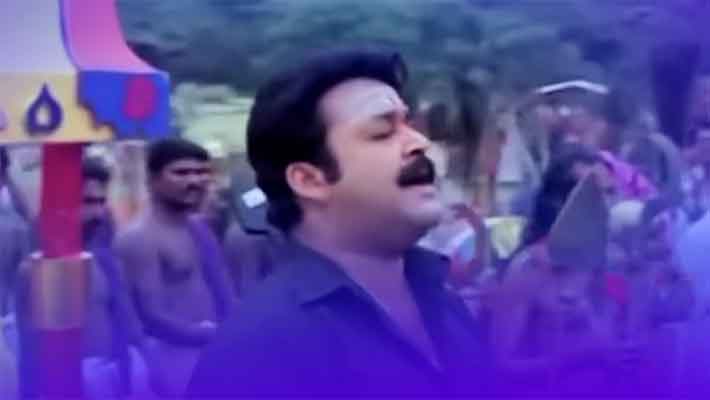 | | |
| --- | --- |
| Title of Song: | Velmuruka Haro Hara |
| Movie: | Naran |
| Lead Vocalist: | M. G. Sreekumar |
| Songwriter: | Kaithapram Damodaran |
| Instrumentalist: | Deepak Dev |
| Director: | Joshiy |
| Actor(s): | Mohanlal |
| Language: | Malayalam language |
NARAN MALAYALAM MOVIE · VELMURUKA HARO HARA SONG LYRICS ENGLISH MEANING
Vel Muruga Haro Hara Ho Velayudha Haro Hara Ho
Shoorampadayude Chempada Kotti Kolam Thullum Thalam,
This is the dancing rhythm of the drum-beats of the mighty army!
Veerampadayude Ponmudiyetti Kotti Kerum Thalam,
The rising rhythm of the mighty army when the white banner is carried!
Ithu Mullancholli Kunnin Mele Kavadiyenthum Melam,
This is the sound of Kaavadi on Mullamkolly hill!
Innakkare Ullavan Ikkare Ethum Thakkidi Thakilidi Melam,
The ʻthakkidi thakilidi' sound of the Lord coming from across!
Ithu Mamala Mele Sooryan Udikkum Pulari Kathirin Velli There,
This is the silver chariot of the rays of dawn! When over the hill the sun rises!
Kadum Malayum Puzhayum Kadannu Tedi Varunnoru Vallitherane,
Valli's chariot coming in search! Coming across for us -hills and rivers!
Vel Muruga Haro Hara Ho Velayudha Haro Hara Ho
Ee Tharakasurane Vadi Velil Korkkanallo, Thiruvannooril Vadivelan Vannu,
To impale on the spear this Tharaka Demon Vadivelan has come to Thiruvannur!
Ee Shoorapadmante Shouryamadakkanallo, Senapathiyay Thiru Murukan Vannu,
To trounce the valour of this Surapadma, Lord Muruga has come as the commander of the army!
Padiyarum Keri Chennal Ambalam Unde, Therum Thirayumunde Hoy,
When you cross the six steps there is a temple, There are chariots and festivals! Ho!
Mudivettan Mudiyil Charthum Moothorkkellam, Theyathin Lahariyundee,
For the elders, who have no hair to cut, There is intoxication of Theyyam!
Vetrivel Muruga Muruga
Vel Muruga Haro Hara Ho Velayudha Haro Hara Ho
Muniyandi Pandarangal Muttethetharayallo,
The devout nomadic boys are about to reach our front yard!
Arupada Veedu Ithu Thirumalamedu,
This is the holy hill Muruga's six sacred hills.
Iniyagnikavadiyadan Ee Kanalin Nazhiyorukkande,
Arranged the urns of embers to dance fire Kaavadi!
Koopada Kootan Ini Kottadavattam,
To start the rituals now beat the drums!
Veerali Kolam Chutti Komaram Unde, Valum Parichayunde,
There is the deity dancer wearing Virali silk! There are swords and shields. hey! hey! hey!
Mookila Nakila Yaruvilakku, Sheelathin Chilambumunde,
There are holy plantain leaves and six lamps, There is the peal of cymbals!
Thanji Konjedi Konjedi Kurumbi,
Hey Kurumbi dance and rejoice!
Vel Muruga Haro Hara Ho Velayudha Haro Hara Ho

Naran Film's Velmuruka Haro Hara Music Video | Mohanlal
Let's check out freshly released music video for Velmuruka Haro Hara from a flamboyant movie Naran.
Let's watch M. G. Sreekumar's attractively voiced Velmuruka Haro Hara Song Lyrics and their meaning which are featured in the Naran film of Mohanlal. Kaithapram Damodaran has jotted down the Velmuruka Harohara Malayalam lyrics and Joshiy managed the music video.