Check out, Venky Mama Title Song Lyrics from Venkatesh & Akkineni Naga Chaitanyas latest film 'VENKYMAMA', track sung by Sri Krishna & Mohana Bhogaraju.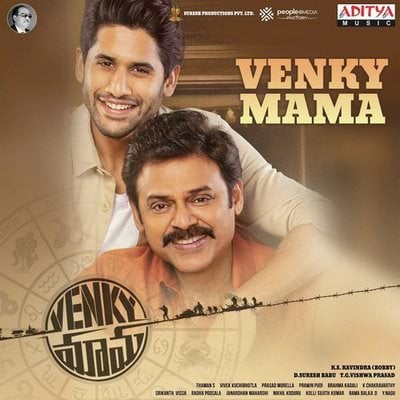 | | |
| --- | --- |
| Song Name: | Venky Mama Title Song (Telugu) |
| Song Name: | Venky Mama (2020) |
| Singer(s): | Sri Krishna, Mohana Bhogaraju |
| Lyrics Writer(s): | Ramajogayya Sastry |
| Music Director(s): | Thaman S |
| Video Director(s): | K. S. Ravindra |
| Actor(s): | Venkatesh, Naga Chaitanya, Payal Rajput, Raashi Khanna |
| Record Label: | © 2019 Aditya Music |
VENKY MAMA TITLE SONG WITH LYRICS|
Dhraksharam Jangamaiya Bheemalingaya,
Biddala Kachukowaya Biddala Kachukovaya,
Manasunna Mahimunna Manikambika,
Challani Thalli Thoduga,
Nuvvu Panchave Dhaya,
Macherugani Menamama,
Melujathi Rathnam,
Aa Mamaki Alludante,
Anthuleni Pranam,
Irugu Dhisti Porugi Dhisti,
Thiyamma Siri Godari,
Ey Padukallu Padakunda,
Veelliddharu Kalisundali,
[Instrumental Break]
Mama! Mama! Mama!
Ne Palikina Tholi Padhama,
Naakey Dhorikina Varama,
Naakayi Nilichina Balama,
Nee Kali Adugullo,
Vundhi Na Gudi,
Nee Noti Palugullo,
Vundhi Na Badi,
Puduthooney Nee Vodilo, Papanai Padi,
Nee Pere Mogindhi, Gunde Savvadi,
Amayina Nannayina,
Nuvvele Venkymama,
Na Thaiyam Na Saiyam,
Nuvvele Venkymama,
[Instrumental Continue to play]
Nee Bhujamekki Chusina Lokam,
Nakentho Andhamayinadhi,
Nee Jatha Nadhichi Gadipina Kalam,
Gelipinche Patamayinadhi,
Naa Paadham Ye Punyam, Chesukunnadho,
Nee Vecchani Gundelapai, Aadukunnadhi,
Nee Raktham Panchukunna,
Janma Hakkutho,
Naalo Prathi Gunamu,
Nee Polikayinadhi,
Ammaina Nannaina Nuvvele, Venky Mama,
Naa Dhyryam Naa Sainyam,
Nuvvele Venky Mama.
O Seethakka Geethakka, Malacchakka Mangakka,
Chudande Ee Pakka, Evarochharo Enchakka,
Hey Vullasam Vutsaham,
Jodi Katti Bandekka,
Mama Allullu Vachare,
Jaathara Gaale Vedekka,
Itta Kalisi Vasthe,
Pakka Pakka Nadichi Vasthe,
Reppaleyadaminkna,
Rendu Kallu Marichipovaley,
Veellechotunna Inthe,
Raccha Raccho Rangula Santha,
Manchi Eggottesi Dhigaarante,
Pamba Regaley,
Seethakka! Geethakka!
Hey Addhirabanna, Iddharikiddharu,
Hema Hemi Bullolley,
Vooru Vada Horetthinchey,
Saradhaa Gaalle Sinnolley,
Varsakemo Oraiyo Veellu, Mama Allulle,
Vayasu Theda Theesesthe,
Pakka Allari Pillolle,
Venky-Mama, Venky-Mama.