Ava En Maharani En Thevathai En Usuru is a well-loved dialogue from the iconic Tamil film Karuppan. Vijay Sethupathi says this exact dialogue as Karuppan in admiration of his wife, Anbuselvi Karuppan, portrayed by Tanya Ravichandran. The dialogue lyrics are included here, along with their English translations.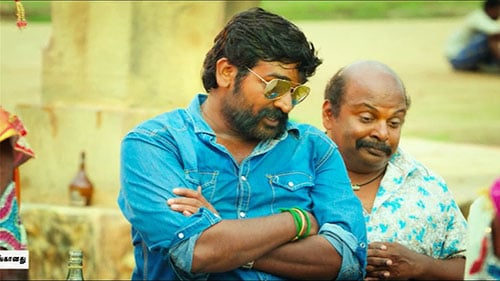 AVA EN MAHARANI EN THEVATHAI EN USURU DIALOGUE ENGLISH LYRICS
Ava En Maharaani, Ava En Devathai, Ava En Usuru, Ava En Kula Saami,
She is my queen, my angel, my lifeline and my deity.
Enakku Avlo Pudikkum
I like her that much.
Enakku Avala Pudikkum
I like her so much!
Enakku Avlo Pudikkum
I like her so much!
Enaku Avala Mattumthaan Pudikkum
I like only her.
The actor portrays the eponymous role, a happy-go-lucky peasant who is a do-gooder at heart despite his ruffian-like behavior. Maayi (Pasupathy, as steadfast as ever), a respected character in the neighboring hamlet, accepts a challenge to marry off his sister Anbu (Tanya, standing firm against Vijay Sethupathi) to Karuppan if he can tame his bull. Karuppan does, but this annoys Kathir (Bobby Simhaa, excellent), the brother of Maayi's wife, who had hoped to marry the girl. So he plans against the pair, trying to divide them permanently.
Let's listen to the whole dialogue, shall we?
The film is set in a hamlet and centers on the life of Jallikattu devotee Karuppan, portrayed by Vijay. During one of the bullfights, he meets Maayi (Pasupathy), who offers to let him marry his sister if he can tame his bull. What happens next is more foreseeable than Rajini's survival after being shot in the chest in Kabali.
The hero and the bull engage in a staring match and a battle of wits, and the scenario itself is spectacular. There is a time when you are trying to decide whether to support Karuppan or the bull. Said the graphic animal is excellent. The most extraordinary moment in the movie may be credited to Shakthi, the director of photography. But the hero had to triumph to win the heroine (much as you would win a trophy in a sporting event).
You definitely wouldn't blink if you were informed that Karuppan, directed by R Panneerselvam and starring Vijay Sethupathi and Tanya from Brindavanam, was made in the 1970s. If you want to enjoy the whole film, watch the video above.