Western Mirza Lyrics – Khan Saab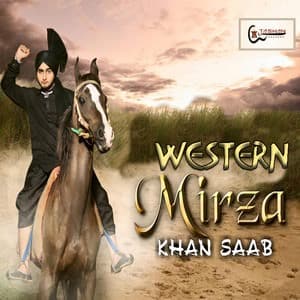 Western Mirza Lyrics is brand-new song from vocalist Khan Saab and music composer Varun Barot.Western Mirza is traditional Punjabi song reproduced by the team.
Song Name: Western Mirza
Singers: Khan Saab
Music Director: Varun Barot
Lyrics: Traditional
Label: AY Tashan Records
Khan Saab's Western Mirza Punjabi Songs
Gal kariye ta kariye 16 aane [x2],
Ho nai ta naa kariye,
je na dhang hove,
Guru hove taan hove hunar da poora,
Te fakkar hove ta nang malang hove,
Chela hove taan guru di lare sewa,
Bhaawein guru wallon sees di mang hove,
Aashiq hove taan Shah Mansur jeha,
Bhaawein paindi gale ch suli di tand hove,
Mashooq hove taan aashiq de mare picho,
Te botal hove taan sidhu seal band hove.
Ho jatt charde mirze khan nu,
Ho vaddi bhabi laindi thamm [x2],
Ho ve main kadi na zor vanagreya [x2],
Ho jatta kadi na aayo kam [x3].
Ho je tu challeya pukha rijhak da [x3],
Ho meriyan potiya le ja bhann [x2],
Ho je tu chaleya pukha dudh da [x2],
Ho majih mod tabele bann [x3].
Ho je tu challeya ae viah karwaun nu,
Mere peke le chal jann [x2],
Ho tenu aap to chhoti viah deyan [x2],
Jatta roop jatti da dhan [x3].
Oh sahib kehdi padmani [x2],
Ohvi ranna wargi rann [x3].