What the Uff Lyric is a brand-new Tamil song by Harika Narayan starring Nivetha Pethuraj. Justin Prabhakaran composed the music for What the Uff. The Ku Karthik the relevant lyrics of the Tamil song. Nelson Venkatesan directed the music video of 'What the Uff', released on March 9, 2021.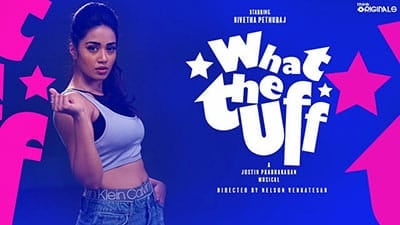 What the Uff Tamil SONG LYRICS • Harika Narayan
Kookaburra Kookaburra, Fly Panna Unakenna,
Anga Pora Inga Pora Pannadha Ne Akapora,
Paiyan Senja Thapilla, Ponnu Senja Why Thappu,
Enna Koraichu Pakadha, Advice Panni Arukadha,
Arukadha Arukadha,
Jeans Pota Girls Ah Matum Arukadha,
Nalanju Break Up Uh anaka Thapenna,
Break Up Kku Aparam Love Vandha,
Panna Koodadhunu Evan Sonnan,
Instagram Uh Pics La, En Character Theriyuma,
Pudichaka Like Ah Dhan Potutu Poda,
My Life My Rule Shut Up,
Call Waiting Vandhale,
Lite Ah Strap Uh Therinjale,
Enquiry Vaikadha Culture Ah Ilukadha,
Oru Hug Uh Thandhale,
Enna Judge Uh Pannadha,
Virgin Ah Nu Kekadha,
Advice Pani Arukadha.
What the Uff (Tamil) Music Video
Stream the What the Uff's captivating music video directed by Nelson Venkatesan.
Harika Narayan sings the What the Uff song and it has its lyrics written by Ku Karthik, music composed by Justin Prabhakaran.