Yuvan is the target of Manini's efforts to discourage him from pursuing his love. Later, Banni and Yuvan attempt to leave home stealthily, but they are taken aback when they notice Viraj standing watch at the doorways.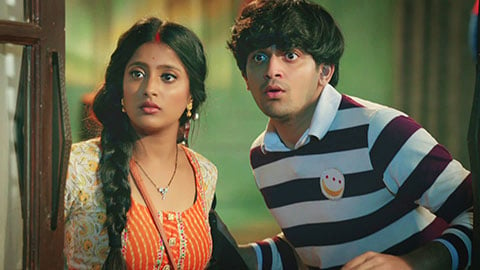 Explore the written update for the recent installment of the fascinating television broadcast Banni Chow Home Delivery voiced on Monday, 19th September 2022. Banni, Yuvan Face a Roadblock is the headline of the popular episode number S1 E97.
BANNI CHOW HOME DELIVERY | 19 SEPTEMBER 2022 WRITTEN EPISODE UPDATE | BANNI, YUVAN FACE A ROADBLOCK
At the beginning of the episode, Yuvan tells Manini that Agastya doesn't let him sing, but that he promises his mother that he will become a singer no matter what. Manini says that you may feel bad about this insult, and that makes me want to cry. Banni shares all of her knowledge with Devraj. Devraj asks how can Agastya do this in this way?
I will have a conversation with the event organiser. Banni urges him to keep quiet because she is concerned that Agastya would think it was because of him that Yuvan got the chance to sing. Devraj inquires as to what she is considering doing next. Banni claims that she will not allow herself to be defeated in the middle of this competition.
She claims that Yuvan may have told Manini about it, and she has no idea what she is planning to do to prevent Yuvan from doing so. Manini cautions him against pursuing a career in singing. Yuvan claims that you have always expressed the desire for him to pursue a career in singing and questions why you are now speaking to him in this manner. Come to the office with me because Manini says that you're married and now you've grown up, and I don't want you to feel offended because of that.
Yuvan has said that this will not occur since he is committed to fulfilling Banni's dream of him becoming a singer. Manini believes that I have a responsibility to prevent Banni from flying because, if I don't, she could allow Yuvan to fly, which is something that I do not want to happen. While Banni is in the kitchen, she is pondering the best way to get Yuvan to sing in front of Agastya. When Manini arrives, she tells Yuvan that she cannot turn him into a singer and that he should therefore give up his dreams of becoming one.
According to Banni, I won't leave the midst until it really takes place. She exits the room. Manini is contemplating forcing Yuvan to walk in front of her. Yuvan observes that Banni is anxious when they are both in the room.
He brings Banni to a halt and has her shut her eyes before ordering her to place her hand on her chest. Yuvan uses his approach to urge her to forget about the strain she is feeling. He claims that if she thought about making him a singer without tenseing up, she would come up with suggestions. Myra gives Banni a call and informs her that she has found Agastya's whereabouts.
She then instructs Banni and the others to make haste to Agastya's current location, which she will relay to them. Manini reveals to Viraj that she would not consent to Yuvan pursuing a career in music because if she did, she would no longer have control over him. She begs Viraj to keep a watch on Yuvan and Banni. Yuvan receives word from Banni that they are playing a game of "hide and seek.
" She is aware that Yuvan is outside, and he may inform Manini. Yuvan warns that if Viraj finds them, they might be eliminated from the competition. Charmi believes that since she is on your side, you will not be vanquished anytime soon. She gives Banni her word that she will put an end to Viraj and tells Banni that she is grateful for the help she gave her in escaping Manini and that she hopes her husband will follow in her footsteps.
Banni grins. Charmi uses her reassuring performance to divert Viraj's attention as she leads him to the chamber. During this incident, Yuvan and Banni were able to flee the home. Agastya is now filming for the rock star promotion.
The director has given the order to pack up. The story's protagonist invites Agastya to accompany her to the shoot for a cup of coffee. The arrival of Rajan is accompanied by coffee. Agastya states that you are aware that I despise it. The heroine learns the solution and then departs. Yuvan can be seen behind a curtain playing the guitar.