A group of demonstrators who want Yuvan to take part in the tournament encircle Agasthya as they shout their demands at her. On the other hand, he explains why Yuvan will never be a famous rock star.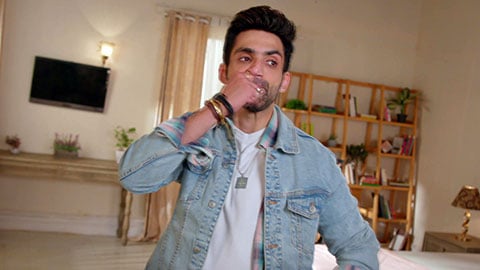 Let's enjoy the written update for the new episode of the thought-provoking TV broadcast Banni Chow Home Delivery aired on Wednesday, 21st September 2022. Agasthya Faces an Angry Mob is the label of the freshly published episode number S1 E99.
BANNI CHOW HOME DELIVERY | 21 SEPTEMBER 2022 WRITTEN EPISODE UPDATE | AGASTHYA FACES AN ANGRY MOB
The first few minutes of the programme focus on Agastya and Banni seeing how people are choosing to support Yuvan rather than Agastya and the Rocking Star event. Agastya is given the instruction to be ready, and Rohan tells them that they may talk to Priya and Shruti about how to contain this reaction before it turns against them. Ngo members have said that they will not allow shooting to go place. Agastya receives a phone call from Shruthi, who informs him that sponsors have withdrawn their support due to his disrespectful conduct.
She requests that he refrain from coming on the set until they get the problem under control. Agastya manages to damage the phone. He claims that Banni did it, and that she is responsible for the consequences of her actions. While they were still travelling, Agastya made a phone call to get the situation under control.
People destroy posters advertising Agastya and hurl stones at the set. The police are attempting to regain control of the situation. Yuvan finds comfort in the knowledge that others are advocating on her behalf. He is grateful to her.
Banni claims that it is Myra's fault that it has occurred. Yuvan thanks, Myra. According to the reporter, the destiny of the Judge will be decided by the audience today. Banni expressed his hope that Yuvan would be given a chance.
Myra says he will. Agastya shows up to the recording studio. A group of people surround Agastya's vehicle while yelling out a boycott message. Rohan communicates with the driver and requests that they return home.
According to Agastya, they are unable to turn back since doing so would be the same as admitting that we made a mistake. Banni expresses the hope that he won't be wounded by people's rage. When Agastya got out of the automobile, several individuals threw stones at him, which resulted in his becoming injured. Yuvan sees it on television, and then he relays the information to Banni.
Agastya asks the people around him how he can give a chance to someone who is mentally unstable, and he informs them the repercussions that would occur if Yuvan becomes a rock star. You are correct, the Ngo lady responds, but what gives you the right to disrespect Yuvan, and you have to make a formal apology to him. The people expect an apology from him. The request for an apology comes from Rohan.
One of the people in the crowd remarks that since he is the son of a wealthy father, he just cannot comprehend the challenges faced by those who have mental disabilities. According to Agastya, the reason he is in the position he is in is due of his skill. There is a visit from the producer. The spectators believe that Param Kapoor is Agastya's father, and it is clear that Agastya inherited his father's remarkable level of skill.
According to Param, Agastya's judgement was incorrect; thus, Yuvan will take part in the tournament, and Agastya will have to step down from his role as a judge. Banni and her family rejoice at their good fortune. Yuvan gives a warm embrace to his granddad. He observes Banni becoming more and more emotional.
Yuvan, who is talented with musical instruments, congratulates Banni on her victory. Banni claims that it is a triumph for him. Yuvan adds that if it weren't for your backing, I would never have made it this far. He informs her that he is content and that he believes they will be able to realise their goal together.
He also guarantees that he will adhere to what she has spoken. Manini watches the video that Yuvan uploaded. She gives Viraj a call and scolds him for the fact that he allowed Banni to trick them. She requests that Viraj keep him informed of Yuvan and Banni's whereabouts on a regular basis till she returns from Delhi.
She ends the call by hanging up. She fears that she will prevent them from achieving their goal. At the market, Yuvan assures Banni that his mother would be pleased to learn that he was given the opportunity. Banni claims that they will be able to tell after she returns from the significant job that she has been doing.
Yuvan is going to the store to get jasmine flowers. The elderly guy hands it to me at first, but then pulls it away when he sees Banni since he claims he doesn't like her. Banni wants to know what she did wrong to make them angry. The elderly guy informs her that she caused difficulties for a fine man like Agastya and explains how Agastya assisted them in selling their balloons before pointing out that she has a misunderstanding of him. Banni feels awful.