When Aarman challenges Aditya about his feelings for Ginni, he finds himself in a difficult situation. Ginni is astonished to witness the shift in Aditya's behaviour towards her, which is happening somewhere else.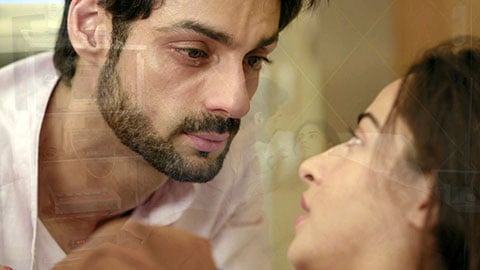 Check the written update for the newly published webisode of the satisfying television broadcast Channa Mereya voiced on Wednesday, 21st September 2022. Aditya's Affection for Ginni is the moniker of the newly discovered episode number S1 E65.
CHANNA MEREYA | 21 SEPTEMBER 2022 WRITTEN EPISODE UPDATE | ADITYA'S AFFECTION FOR GINNI
Armaan begins the episode by telling Aditya that he must be doing all of this because of his guilt, but that they do all of these things for the one person who matters to them. What's with this sudden surge of affection for Ginni? Aditya remained mute. Armaan continues by telling Aditya that he has never been to Gurudwara, but that today, for Ginni, he is not only here but has also performed such arduous atonement for her.
Armaan asks Aditya why he would do all of this for Ginni, given that he claims to have no connection with Ginni. Even if he tells him to be quiet or just let it go, he is still interested in knowing the response. After that, he reveals to Aditya that Rajvant begged him to go to the temple, but Aditya disregarded Rajvant's requests and never went. Additionally, he mentions that there have been two new women in his life as of late.
One of them is Sam, who played on his vulnerabilities and made an attempt to use them against him. In addition to that, he lets Ginni know that she is there for him and has rescued him on several occasions. He is also aware that following his mother's passing, no one forced him to go to the temple, but today, for some reason, he decided to go there for Ginni. This is a surprise turn of events.
He never stops pressing Aditya for answers about why he is acting in such a manner against Ginni. Aditya tells Armaan that when Ginni wakes up first thing in the morning, he is going to ask her why she did this, even though he does not know why he is doing all of this. However, the moment he heard the doctor saying that Ginni is in critical condition, he decided to come to the temple because when he was a child, he has seen his mother having such faith in God, and after that, it is Ginni who he has seen having Armaan inquires of Aditya if that is all there is. Or is there anything more that he is steadfastly refusing to comprehend, recognise, or acknowledge?
When Aditya finds himself perplexed, he turns to gaze at Armaan. Armaan suggests to Aditya that he spend some time to reflect about the situation in order to maybe come up with a solution. After some time had passed, Aditya and Armaan arrived at the hospital. Amber probes Aditya's answer by pointing out the difficulty he has in walking by himself.
Aditya glares at him. The identical questions are asked of him by Aditya's uncle. Ginni placed her life in jeopardy to rescue Aditya, and Aditya says that he owes her the very least he can do in return for her bravery. Ginni may be heard muttering Aditya's name from inside the room.
The nurse comes out and informs Aditya the same thing, as well as the fact that Ginni is no longer in danger, which causes joy for the Grewal family. Before entering Ginni's room to see her, Aditya thinks back to the questions that Armaan had asked. Armaan helps him go into the room. Aditya walks up to Ginni and sits down next to her as he begins to show his emotions.
Amber had the hope that Ginni won't recall anything from their conversation. Aditya is instructed by the nurse to hit the button in the event that he observes Ginni's condition deteriorating in any way, and the nurse then leaves the room after informing him that they would be monitoring Ginni for the next twenty-four hours. When Aditya notices that Ginni is growing agitated and using his name, he lays his hand on her to calm her down. Ginni then stops using his name and says bullet.
One of Aditya's eyes begins to flood up with tears. He gently strokes her cheek and combs her hair. Ginni eventually comes to and notices Aditya. Both of them are staring at one another.
In the background, you can hear Channa Mereya playing. Ginni makes an effort to sit but has a hard time doing so. Aditya inquires as to whether or not she is alright. Ginni responds with a yes and then inquires as to whether or not he is feeling alright.
Aditya says yes. After that, he addresses the fact that he does not comprehend why she did all of this and informs her that he demands an explanation for it. Ginni only reveals her reasoning to others for the purpose of individuals who are not currently in a romantic relationship. Ginni and Aditya are both staring at each other.
Aditya remembers that Ginni was also the one who assisted him when he was hurt in the past. In addition to this, he remembers how he first met her in the market and all of the times that they spent together before to being married. Ginni stares at him. Aditya reflects on the day when Ginni took the bullet for him.
Ginni is asked by Aditya whether she has ever considered the question of what response he would have provided to Rajvant and Gulraj in the event that anything had happened to her. Ginni reassures her that he, together with God, will always be at her side, and that thus nothing bad will happen to her. Ginni is being cared for by Aditya as Amber observes from the hallway outside the room. He believes that Sam did nothing for Aditya but still ended up being an emotional idiot and making such a poor choice, while Ginni was the one who ended up saving his life, thus it is only normal for him to develop feelings of attachment to her.
However, he wants to be absolutely certain that Ginni did not see the shooter's whereabouts before he allows her to remain in their home since he cannot endanger everything, including their company, by doing so. The next day, Aditya is seen seated close to Ginni. Ginni is greeted by the Singhs, who bring a bunch of flowers with them. Aditya maintains his silence and doesn't provide any comments.
After that, they left, and Aditya sat down next to Ginni. He thinks back to the doctor's efforts to try to preserve her life. The days go by quite quickly. After that, Aditya will use his hands to feed Ginni.
Ginni is taken aback when she observes Aditya's concern for her. She doesn't say anything. She looks away. After then, she takes a look at the glass of water and makes an attempt to take it by herself.
This is not lost on Aditya. He moves closer to the table and grabs a glass of water from the centre of the table. After that, he assists her in getting some water. They both make eye contact with one another.
Ginni's family visits her at the hospital to see how she is doing. Gulraj bestows her blessing to Aditya by placing her palm on his head. When she sees Aditya being so kind to Ginni, it makes her feel better about herself. Joyfully, she and the other members of the family depart the location. Ginni and Aditya exchange glances with each other.