A narcotics investigation leads to Imlie's arrest. Chini, who is understandably concerned about Imlie, enlists Atharv's assistance to free her. In the meanwhile, Narmada is incensed after learning that Imlie has been arrested.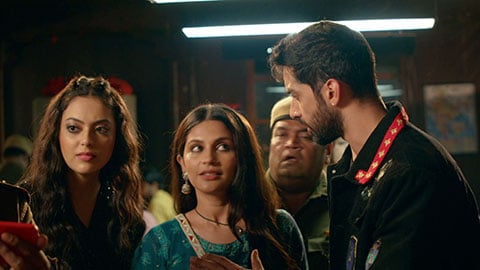 Get to read the written update for the current chapter of the thought-provoking serial Imlie delivered on Wednesday, 21st September 2022. Imli Gets Arrested is the subtitle of the most recently released episode number S1 E582.
IMLIE | 21 SEPTEMBER 2022 WRITTEN EPISODE UPDATE | IMLI GETS ARRESTED
At the beginning of the episode, Imlie and Atharv both search the performance venue for Chini while Atharv is also looking for the person whose voice they heard. The dupatta that Imlie was wearing lands on top of his head. When he turns around again, Chini walks into the room and blocks his view of Imlie. Only then is he able to see her.
Chini reclaims the dupatta from him before stepping out of the room with Imlie. Imlie yells at her to turn around and go back, but the woman rebukes her for entering the performance nonetheless. Chini claims that she is unable to talk effectively in front of people she does not know. When she sees them, she becomes completely still; why is she even here?
Chini heads over to say her goodbyes to her pals, as Imlie takes a call from Rupy. Imlie breaks the news to her that they would be returning when some time has passed. Imlie is accidentally bumped into by a criminal, who then dumps narcotics packs. Imlie expresses her regret to him and offers to give him the packets, but he declines to accept them.
She is unable to identify the kind of white powder that it is, but the thief has assured her that it is effective in treating headaches and that she may keep it. However, according to her, it is his property. He was being pursued by the police, but he managed to get away from them. They complain of being exhausted, and Imlie surprises them by handing them the packages.
Chini glances at Atharv when he is singing the song "Ruk Ja O Dil Diwane" for her. As she walks away with her pals, she muses about the possibility that Imlie may really be jailed. Atharv wonders where she may have gone. Arpita is concerned about why Imlie hasn't returned yet as she waits for her arrival and wonders about the situation.
After turning on the television, Narmada watches the news to learn that Imlie was detained by the authorities for possessing narcotics packs. Arpita goes into shock, and Narmada accuses Imlie of being a terrible omen and saying that she murdered her own parents when she was born. They were given an oath by Narmada, which said that if they attempted to assist Imlie, they would be shown Narmada's dead corpse. Everyone is taken aback by the news.
Imlie writes a poem, and the officer teases her by implying that a poet has the potential to be a drug dealer as well. Chini arrives to help get her freed, and he gets into an argument with the officer. She claims that Imlie is unable of even turning a person away, so how could she ever cope with drugs? She is quite uncomplicated and pure in nature.
The officer does not trust what she has to say and insists that a criminal may put on an act of innocence. Chini, upon seeing Atharv come to her aid, inquires as to the circumstances behind his presence. Atharv claims that he came to assist her since he learned that she needs assistance. In addition to that, he endeavours to persuade the officer of Imlie's innocence.
Imlie gives the impression to the police, without realising it, that she has access to a far larger quantity of the packages. They may get it at a store, and it relieves headache symptoms. Her whole household uses it, among other things. She divulges all of this information to the officer without being aware that it pertains to drugs.
In the end, she admits that someone handed her these packets before leaving. Atharv informs the officer that he can provide them with CCTV video from the area outside of the event venue. They watch the tape, which enlightens them to the reality. Imlie is on the verge of passing out after realising it was drugs.
She claims that she was unaware of the situation at the time. The officer lets her go free. When Rudra learns that Atharv has returned to the police station for the second time in a single day, he becomes enraged. He destroyed his reputation.
Akash, Rudra's second son, attempts to calm him down, but his father insults him by saying that he is a show off who conducts business for his own self-serving purposes. Rudra pays no attention to Akash's wife as she tries to defend her husband. She walks away in a bad mood, and Akash follows after her. Atharv's mother insists to Rudra that her son is not capable of committing a crime since she is familiar with him.
She is mocked by Rudra, and he walks away without taking the medication. Shivani is informed by Atharv's mother that whenever a battle breaks out between a father and a son, the mother and the wife also struggle with their own internal conflicts. Imlie is called a moron by Chini, who then apologises as Atharv offers to drive them to their destination. Chini and Imlie are now seated inside the vehicle.
Imlie expresses his gratitude to Atharv for his assistance, and then he adjusts the front mirror so that he can see Chini's face. Her allure has a profound effect on him. Chini likes listening to the music that he performs on the guitar. Imlie feels slightly uncomfortable.
Despite the heavy traffic, Atharv pulls over the vehicle. A transgender person makes a request for nek, blesses the couple formed by Imlie and Atharv, and instructs them to be together for the rest of their lives. Chini believes that people arbitrarily accept any coupling as wonderful, but a classless lady like Imlie can never be matched up with a brilliant person like Atharv. Chini is mistaken about this.