After giving her support to Krish's desire to marry Shweta, Dhara is confronted with a number of issues. In a different part of the story, Shweta finds herself in a difficult situation as her father imposes a need on her.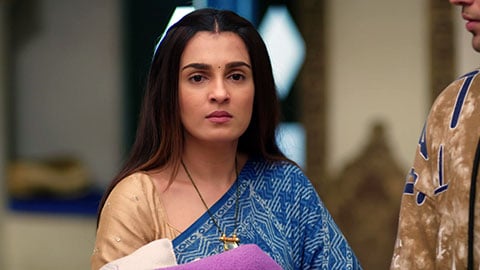 Let's experience the written update for the newly released episode of the interesting TV drama Pandya Store aired on Wednesday, 21st September 2022. The Pandyas Confront Dhara is the moniker of the funky episode number S1 E524.
PANDYA STORE | 21 SEPTEMBER 2022 WRITTEN EPISODE UPDATE | THE PANDYAS CONFRONT DHARA
At the beginning of this episode, Dhara approaches Krish with a question: "Do you want to marry Shweta for her sake? " She claims that in such scenario, she is unable to forgive herself. She demands an explanation as to why he is interested in marrying Shweta. In his head, Krish tries to make amends with Dhara.
He yells at Dhara and tells her that the choice he's about to make wasn't made for her benefit. The next step is for him to face his family. He claims that everyone else in the family, with the exception of himself, has the right to love. He claims that Rishita is worried that she will lose her status as the most valuable member of the household if another wealthy girl moves in.
Rishita freely says that she does not approve of Krish and Shweta getting married. She claims that Krish and Shweta do not love one another, which means that their marriage would not be successful. She believes that a woman can never be a decent wife if she is unable to be a good mother. She reveals that she installed cameras in order to keep an eye on Shweta since she was certain that the latter was engaged in some activity designed to keep Chiku away from her.
She claims that Shweta was on the phone when Chiku was taken, thus she did not provide the doctor with a blood sample at the time of the abduction. She also reveals that she is familiar with the kidnapper known as Forum. Raavi protects Shweta. She then goes and stands with Krish, all the while claiming that he is with Krish.
Dhara is also in favour of Krish and Shweta getting married, which surprises the rest of the family. Suman tells Dhara that it is impossible for her to acquire Chiku after the wedding of Krish and Shweta if she is a supporter of Krish and is considering doing so after the wedding. Both Shiva and Gautam are unsure about who they should back in this conflict. Raavi makes an effort to vouch for Suman.
The latter leaves her speechless. Suman is heard saying that Dhara has become self-centered and is prepared to give up Krish in order to acquire Chiku. Dhara strenuously disputes this, claiming that the issue is focused on Krish's happiness and that there is nothing more important to her than Krish's pleasure. If being married to Shweta would make Krish happy, then what is the issue, Gautam inquires to Suman on behalf of himself and Krish.
He suggests that they need to back Krish, provided that Shweta is open to the idea of marrying Krish. The news about Gautam completely takes Suman by surprise. In the meanwhile, Shweta engages in a heated debate with her parents about whether or not they should arrange her marriage to Krish. In this passage, Suman asserts that Krish is unable to make important life choices since he is still a kid.
According to Dev, Krish is no longer considered a kid. He matured as a result of the situation with Kirti, and it's clear that he gave a lot of thought to this choice before making it. He asserts that he, too, is Krish's supporter. While both Suman and Krish stand there in amazement, Shiva is seen standing at Krish's side.
In this scene, Shweta decides that she does not want to marry into the Pandya family since they are of a middle-class social status and she does not love Krish. Shweta's mother thinks that her daughter couldn't have found a finer family than the Pandyas, and she sings Krish's praises. She insists that Shweta tie the knot with Krish no matter what. Rishita is adamantly opposed to Krish and Shweta getting married because she believes that Shweta is not the appropriate spouse for their family.
Suman is on Rishita's side, and she believes that Krish would never be content with Shweta. Suman receives reassurance from Rishita that Shweta would not consent to marry Krish. The latter is concerned that Shweta would not consent to their marriage. Rishita grabs Chutki in her arms and announces that she is also accompanying them.
There, Shweta tells her parents that Krish wants to marry her for their money, and she threatens to leave the home if they make her marry Krish against her will. She also states that Krish wants to marry her for their money. Shweta's father requests that his daughter move out of the house. He claims that he is transferring the ownership of the properties into Chiku's name, and that those individuals who accompany Chiku will be granted property rights.
Shweta is taken aback and demands to know how they intend to manage everything with only their daughter. Shweta's mother has given her the assurance that once she marries Krish, they would appoint her as Chiku's guardian and allow her to retain ownership rights to the property until Chiku reaches the age of majority. Pandyas's home is visited by Shweta, along with her parents and brother. Chiku is given to her by Suman, who is under the impression that she has come to retrieve her.
Shweta's decision to wed Krish comes as a surprise to both Suman and Rishita. Dhara expresses her gratitude to Shweta before joining the hands of Krish and Shweta. Dhara is what Suman yells out.