Parineet is devastated and leaves Rajeev's home after telling his family the truth about Rajeev. Later, Parineet decides to tell Neeti the truth about Rajeev after becoming concerned about her. When Neeti learns the truth about Rajeev, how will she respond?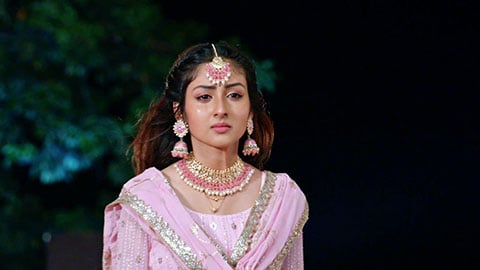 Get to know the written update for the trend-setting installment of the entrancing show Parineeti produced on Wednesday, 14th September 2022. Parineet leaves the house is the label of the all-new episode number E178.
PARINEETI | 14 SEPTEMBER 2022 WRITTEN EPISODE UPDATE | PARINEET LEAVES THE HOUSE
The episode begins with Parineet embracing Gurinder and accepting her blessings. Chandrika gives her an intense embrace. Parineet is preparing to leave home. Rajeev's mother intervenes, saying she shouldn't go like that. Rajeev has committed a transgression against Parineet.
Even she has come to terms with it. It is her responsibility to help him comprehend what he has done wrong. She could give her one opportunity. He should not have deceived his wife in such a way. She should not be leaving this home.
She will treat her as if she were her daughter. In this house, she enjoys the same rights as Rajeev. Rajeev wonders what Mom is attempting to accomplish. He has feelings for Neeti. Now that his truth is out in the open, he may be thinking about Neeti.
Rajeev's mother informs her that fighting between husband and wife is common. Parineet inquires as to which connection she is referring to. They've never had a typical husband-and-wife relationship. She will not forgive him for his error. It is her choice.
She wonders who would leave the home-like way, Parineet. No one will try to stop her, says Parineet. Rajeev's mother begs him to stop her. When Parineet opens the door, there is a strong wind outside. Parineet gives Rajeev an expressive gaze.
She recalls Rajeev's betrayal, and Gurinder engages her in a discussion. Chandrika's feelings towards her. She becomes irritated as she recalls Rajeev's confession. Rajeev's mother again stops Parineet. She begs Parineet to remember it for her before she leaves home.
She is giving her one more opportunity to make a final choice. Is she truly ready to leave the house? She is afraid that Parineet will depart and that they will take her home. Parineet crossed the room and informed her that she may have received her response. She goes away, carrying her bags.
Rajeev's mother disparaging Parineet in front of Gurinder. She had a loud conversation with her. Gurinder told her to tone down her voice. It's her residence. No one dared to speak out against her in her home.
She is the one who has wrecked their family name, not Parineet. Not only her but also her kids, were affected. Whatever they did to Parineet was wrong. That is why she supported Parineet's decision. If anything like this occurred to our family, Daughter?
Has she ever handled Parineet as if she were her daughter? Rajeev's mother queries why she is usually referred to as Parineeti. Is she simply concerned about herself? Is it wrong for Rajeev to love or marry someone else? She reflected on herself and her pleasure.
Is it wrong to pursue their happiness? Gurinder assures her that she is not opposed to their happiness. But she shouldn't be pleased by destroying the pleasure of others. If she isn't aware that Rajeev loves Neeti, why did she compel him to marry Parineet? If it had been her kid, she would have hit him and booted him out of the home.
She will not blame someone else for her error. It is the responsibility of parents to guide their children. Rajeev's mother believes that if she does not worry about Parineet now, she will go to Barnala. She then walks away. Rajeev follows her.
Parineet believes she would not have forgiven Rajeev for his error, but it is a question of life and death for Neeti. As a result, she may make this decision. Rajeev attempts to persuade his mother. She screams at Rajeev. She claims Gurinder is scolding her and is solely concerned about her pleasure.
She is not paying attention to her. Rajeev tells her that whatever she says to her is true. There is no deception about it. She suggests that he tell the truth to Neeti first. Rajeev informs her that she is aware that both of them have wronged Parineet.
She requests that he speak with Gurinder about it. He expresses his desire to meet Neeti. He receives a phone call from the hospital. His mother throws the phone away, claiming she needs his assistance. She asked him where Parineet was going.
He informs her that he may be going to her house. Parineet later receives a call from the hospital. Hearing Neeti's condition causes her to panic. She promised to arrive on time. She then walks away.
Gurinder screams at Rajeev's mother. Simi is supportive, but she assures her that they will understand her position when she visits her in-laws. She orders them to leave her home. Rajeev begs her not to toss him out. So she wants him to leave Neeti?
She tells him that Parineet has done a lot for his happiness. She put her life in danger to rescue him. But Neeti will not do such things; she will leave him.