Get to know the written update for the present day's installment of the excellent TV program Rajjo presented on Thursday, 8th September 2022. Madhumalti Grows Suspicious is the label of the all-new episode number S1 E16.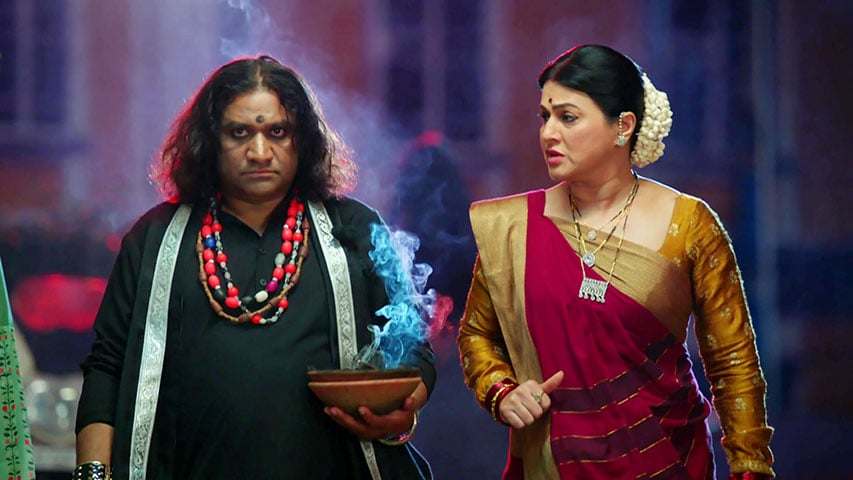 Rajjo 8 Sep 2022 Episode Information
Episode No:
S1 E16
Title:
Madhumalti Grows Suspicious
Summary
Madhumalti's curiosity is piqued when she notices a long strand of hair on Arjun's pillow. She calls for Jantar Mantar Baba to come to the home so that the bad spirit might be exorcised.
RAJJO | 08 SEPTEMBER 2022 WRITTEN EPISODE UPDATE | MADHUMALTI GROWS SUSPICIOUS
The episode begins with Rajjo sobbing because she cannot locate her mother. Meanwhile, in Arjun's residence, Madhu searches Arjun's room and discovers a strand of a girl's hair on Arjun's bed. Arjun lends his scarf to a sobbing Rajjo at the rescue facility. He promises Rajjo that they will locate her mother.
Manorama, on the other hand, is hoping to discover Rajjo. Madhu wonders whose hair it is at Arjun's place. She affirms that it is not Urvashi's or anybody else's hair but rather the hair of an outsider. She then wonders whose hair it is.
She smells smoke coming from the restroom. She investigates and discovers a lady standing in the dark holding a light. She becomes terrified and dashes downstairs, crying out to her family members. The family rushes up to Madhu and inquires as to what transpired.
Madhu claims there is a witch in Arjun's chamber. The family refuses to trust her and attempts to persuade her that she is mistaken. Madhu refuses, claiming that Arjun has behaved strangely since a witch followed him back from Nainital. She displays the hair she discovered on Arjun's bed.
When Chirag makes a statement, she scolds him and tells him to avoid Arjun's situation. She claims to have chosen what she would do to get rid of the witch. Rajjo is praying beneath a tree somewhere else. Arjun tells Rajjo that he may take her to a local temple if she wants to pray.
According to Rajjo, God is present wherever there is trust. Arjun sits with Rajjo and prays as well. Rajjo begs God to help her locate her mother. Arjun has returned home.
He enters his room. He is taken aback by how quiet the home is. He instructs Rajjo to remain on the balcony. He goes to check on the smoke coming from his bathroom.
Meanwhile, Madhu and Kartick are on their way to pick up a Baba. Madhu tells Baba that she obeyed his orders and requested everyone in the household to remain in their rooms. She inquires as to Arjun's well-being. Arjun, according to Baba, is following the witch.
Arjun is going to turn off the hot water. He is shoved into the tub. Rajjo believes Arjun collapsed after hearing the commotion and tries to assist, but she stops. Arjun is astonished to see Urvashi in the restroom.
Arjun hopes Rajjo does not visit the toilet. Urvashi claims that since he did not come for the vacation, she has arrived. She claims that Arjun is creating excuses because he hesitates to approach her before the marriage. Urvashi leans on his shoulder.
She reminds him about their engagement and urges him to stop hesitating. Just then, Madhu and her family arrive, accompanied by Baba. They discover Arjun in the bathtub, covered in flowers. His relatives tease Arjun.
Madhu claims that it is a witch's effect. Arjun requests that they leave him alone, and then They depart. Urvashi emerges from under the surface of the ocean. Pushkar enters a room.
He collapses as a result of the smoke. He has trouble breathing. He reaches for his inhaler, which is on the bed. Meanwhile, Baba informs Madhu that he has placed smoke in every homeroom, preventing her from escaping and trapping her in the room.
Rajjo is hiding in the kitchen cabinet. Hearing this, she bursts out laughing. They all go. They overlook Pushkar, who is straining to breathe.
Arjun and Urvashi emerge from the restroom, and Urvashi embraces Arjun. Rajjo looks out the window, and Arjun takes notice of her. Urvashi departs, asking Arjun to be naughty on their honeymoon. Rajjo mocks Arjun, telling him that his mother brought a baba to slay the witch who is stalking him.
The Baba gathers everyone in the hall and explains how the witch got inside the home. Arjun prepares to go. Rajjo requests that Arjun send her mother's medal to Baba and that he find her mother. Arjun tells Rajjo to give it to him since he knows someone who can assist her.