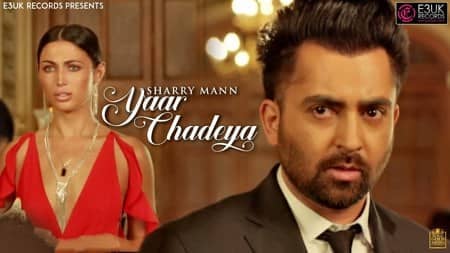 YAAR CHADEYA LYRICS – For the very first time Sharry Mann collaborates with Snappy and Rav Hanjra team for his latest song, released by E3UK.
Navjit Buttar is director of entertaining Punjabi music video of "Yaar Chadeya" featuring Sharry Maan. Bauss P has done mixing of music of song and Naweed Ahmed (Whitfield Mastering) is the songster who mastered music tone.
SHARRY MANN's NEW YAAR CHADEYA SONG LYRICS
Dollar 'an layi yaar shaddeya,
Tahiyon phirdi ae kadran gawaondi,
Sadiyan ghasaa ke juttiyan,
Heel Jimmy Choo di kithay raas aondi,
Dollar-an layi yaar shadeya,
Ni tu nazran ton leh gayi,
Kiddan nazran milayengi -x2,
Akhan ainak'an ch phirengi lakaundi,
Yaar shadeya, yaar shadeya.
Oh khotay sikkay samajh ke shad gayi,
Saanjh tu paa layi lakhan naal,
Mehlan waleyan shaddeya jadon
Kam pau gali deyan kakh'an naal -x2.
Chauhan dina pichon akk gayi,
Saun umran di rahi tu khawaundi,
Dollar-an layi yaar chadeya, tahiyon firdi áe kadraan gawáundi,
Pound-an layi yaár chadéya, taiyon firdi aé kadran gawaundi.
Yáar chaddéya -x2.
Baute wal-shal naiyo aunday,
Simple sober bande ni,
Rav Hanjra dil saaf ne bhawein
Leerhe sade gande ni -x2,
Naweyan naa' laake yaariyan
Rambe waleyan nu firdi bhalaundi,
Pound' an layi…
Yaar chadeya -x9.