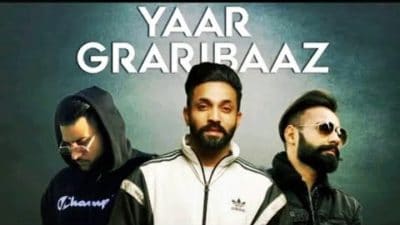 YAAR GRARI BAAZ LYRICS with the vocals Dilpreet Dhillon featuring Karan Aujla and the talented Shree Brar is a fresh release of this week. The Punjabi track has been produced by Desi Crew. KSWAY did music video and Saga Music will be releasing it on YouTube.
YAAR GRARI BAAZ FULL SONG LYRICS
Afghan di ni 'feem, chit evergreen,
Akh khadi te hulare aunde lor 'ch,
Sadiyan taayin na biba jaan ge ni patte,
Kill laa te jede velliyan de daur 'ch,
Kal vi si end ajj vi aa kaim
Lit rehn ge ni jina chir yaar khade ne.
Oh gaddiyan te karhe ne, wich paye ghade ne,
Yaar sare tunn ni garari baaz bade ne.
O kiniyan kateerhan saade agge-agge daudiyan,
Niyaneya ch hikkan kade kitiyan ni chaudiyan,
Aise bande jatt de group ch na bharti
Vehde utte chaad pichon chak lainde paudiyan.
Ho gaddi ch facility ae daru naale gun' a di,
Meri akh vairiyan te, mere utte ranna di,
Age utte jande jede karidi kutayi ae,
Meeting kar diye ni hathan naal kanna di.
Na hit karde stunt, chote chahida current
Ainve hawa ch ni koke layide,
Tere jahe kutte bille, bade chandigarh chhille,
Putt nit hi ni lamme payide.
Age te na jayin tu rakaad dekh layin,
Kithon-kithon aa langhaunde asi rod dekh layin,
Check google te kari kharcha tu week da,
Fer kaka apna jugaad dekh layin.
Utton raund 31 da, shonki jatt gun da,
American asle license' an utte chade ne.
Gaddiyan te karhe ne, wich paye ghade ne,
Yar sare tunn ni garari baaz bade ne.
Ho rib naal marhe pistol dabban 'ch,
Bann de aa jattan de shingar ni,
Ho gaddiyan ch aap baad pair dharida,
Pehlan charde aa sade hathyar ni.
Classic je bande naiyo thod caran naran di,
Shehar tere boldi ae thukk sardaran di,
Chori-chori baliye sunde star ne,
Geet kahde niri agge tere shri brar de.
Ho peen-khan de shukeen jatt jattiye,
Gerhi route te launde aa nit mehfilan,
Dabban wich jorhe magzine' an
Seat' an thalle nachdiyan barrel' an.
Ho kudiyan ni chhed de, khabbi-khan derh de,
Jattan de ni pooray taan asool khare ae.
O gaddiyan te karhey ne, vich paye gharhey ne,
Yaar sare tun ni graribaaz bade ne.