Yaarumilla Song with the translation of its full lyrics. Adithya Varma is the film that features this track and its Tamil verses are hummed by Sid Sriram. Get to know the meaning of the following song in English.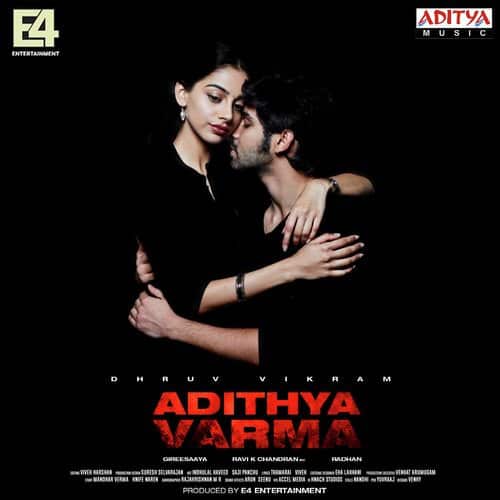 | | |
| --- | --- |
| Song Name: | Yaarumillaa (Tamil) |
| Album: | Adithya Varma (2019) |
| Singer(s): | Sid Sriram |
| Lyrics Writer(s): | Vivek |
| Music Director(s): | Radhan |
| Video Director(s): | Gireesaaya |
| Actor(s): | Dhruv Vikram, Banita Sandhu, Priya Anand, Anbu Thasan |
| Record Label: | © 2019 Aditya Music |
ADITHYA VARMA | YAARUMILLA SONG LYRICS ENGLISH MEANING
Yarumilla Vazhkaiyil, Nee Irukka Yenginen,
Kalam Varai Kadhalai, Un Madiyil Thoonginen,
In a life without anyone, I yearned for you alone.
In the shower of love till the end of time.
I slept in the warmth of your lap divine.
Nee Pirinthu Pogirai, En Uyiril Odaigiren,
Enji Vitta Dhoosile, Nan Ennai Korkkiren,
You are drifting away from me. My soul shatters to shards.
I try to string myself again with the remaining dust in vain.
Aval Parvaigal Sumakkamale,
Andha Nalaiyum Varuthe,
Nodi Nerathil Uyar Vanathu,
Andha Savenum Varame,
Not carrying her glances in my mind's eye as nuances.
Dawn of such a day is not too far away.
It seems ultimate in a few seconds.
Death as a boon that beckons.
Nee Tholaitha Azhathil, Nan Oligiren,
Anathai Kattile Nan Karaigiren,
In the depths, you disappeared into.
I try to hide to find you.
I melt in the orphaned wind anew.
Kaneerai Kappattri Unakaga Serkkiren,
Thadagame,
I save my tears for you exclusive.
My miracle pool elusive.
Thagam Illadha, Meenum Thanneeril,
Vazhum Nyayathai Yerkkiren,
Yarum Selladha Theevin Maiyathil,
Pulli Poovaga Pogiren,
I understand now the anomaly of a fish not thirsty living in the sea.
To a no man's island, I'm traveling.
As an insignificant dot, I'm shriveling.
Eesal Rekkai Mel, Eeyin Padhangal,
Baram Eppadi Thanguven,
Neeye Illadha Keeral Kolladha,
Nenjai Enge Nan Vanguven,
How will I bear the burden burning of
fire's footprint on a beetle's wing?
Where can I buy an un-scarred heart without you in my life, sweetheart?
Kaneerai Kappattri,
Unakaga Serkkiren, Thadagame,
I save my tears for you special.
My magic pool essential.