Yeh Dooriyan is the latest version of the Hindi song by Mohit Chauhan from Love Aaj Kal 2 (2020) movie. Read the lyrics of 'Yeh Dooriyan Song' in Hindi fonts featuring Kartik Aaryan with Sara Ali Khan from their brand-new film Love Aaj Kal.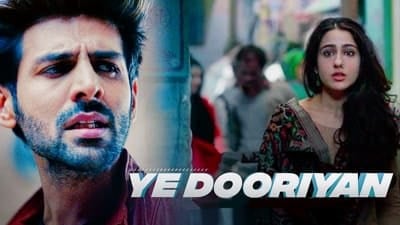 | | |
| --- | --- |
| Song Name: | Yeh Dooriyan |
| Album: | Love Aaj Kal 2 (2020) |
| Singer(s): | Mohit Chauhan |
| Lyrics Writer(s): | Irshad Kamil |
| Music Director(s): | Pritam |
| Video Director(s): | Imtiaz Ali |
| Actor(s): | Kartik Aaryan, Sara Ali Khan |
| Record Label: | (P) 2020 Sony Music Entertainment India Pvt. Ltd. |
LOVE AAJ KAL 2 | YEH DOORIYAN SONG LYRICS
Sach Kahun Toh, Honth Jalte Mere,
Chup Rahun Toh, Saans Hi Na Aaye,
Mushqil Hai Bohat Hi,
Ab Chhupana Ya Batana,
Zyada Paas Aana, Hai Asal Mein Door Jana,
Mere Saath, Mere Zakhm Bhi Hai,
Dard Bhi Hai,
Jinse Hai Bigadta Jo Bhi Chaun Main Banana,
Mujhe Nazdeekiyon Se Mili, Ye Dooriyan,
Yeh Duriyan!
Na Shikayat Hai Tujhe,
Shikayat Naa Mujhe,
Magar Doori Hai,
Kya Bhala Roke Humein,
Badhe Na Kyun Kadam,
Agar Doori Hai,
Poochun Tere Baare,
Chadhte Din Se, Shaam Se Bhi,
Na Hai Chain Teri Yaad Se,
Naam Se Bhi,
Aisa Kyun Huwa Hai,
Ye Pata Hai Jaante Hain,
Tujhse Bhi Mohabbat,
Hai Mohabbat Kaam Se Hi,
Yuhin Nazdikiyon Mein Rahi,
Yeh Dooriyan! Yeh Dooriyan!
YEH DOORIYAN 2 FULL LYRICS IN HINDI
सच कहूं तो होंठ जलते मेरे,
चुप रहूं तो साँस ही ना आये,
मुश्किल है बहुत ही,
अब छुपाना या बताना,
ज़्यादा पास आना,
है असल में दूर जाना,
मेरे साथ मेरे ज़ख्म भी हैं, दर्द भी है,
जिनसे है बिगड़ता,
जो भी चहुँ मैं बनाना,
मुझे नज़दीकियों से मिली,
ये दूरियां, ये दूरियां।
ना शिकायत है तुझे,
शिकायत ना मुझे, मगर दूरी है,
क्या भला रोके हमें, बढे ना क्यों कदम,
अगर दूरी है।
पूछूं तेरे बारे चढ़ते दिन से, शाम से भी,
ना है चैन तेरी याद से भी, नाम से भी,
ऐसा क्यों हुवा है, ये पता है जानते हैं,
तुझसे भी मोहब्बत, है मोहब्बत काम से भी,
युहीं नज़दीकियों में रहीं, ये दूरियां, ये दूरियाँ।