Translation for lyrics of 'Yen Endral Un Piranthanal Song' in English, from IAB Film (Idharkuthane Aasaipattai Balakumara) of Vijay Sethupathi with Ashwin Kakumanu & Swati Reddy. Learn meaning Tamil Song 'Yaen Endral Un Pirantha Naal Lyrics', well-sung by vocalists Hariharan with Vishnupriya & Maalavika Manoj.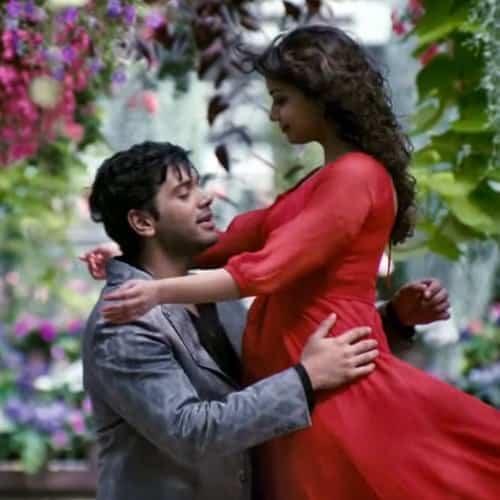 | | |
| --- | --- |
| Song Name: | Yaen Endral (Tamil) |
| Movie Name: | Idharkuthane Aasaipattai Balakumara (2013) |
| Singer(s): | Hariharan, Vishnupriya, Maalavika Manoj |
| Lyrics Writer(s): | Madhan Karky |
| Music Director(s): | Siddharth Vipin |
| Video Director(s): | Gokul |
| Actor(s): | Vijay Sethupathi, Ashwin Kakumanu, Swati Reddy, Nanditha, Pasupathy |
| Record Label: | © 2013 Think Music |
YEN ENDRAL UN PIRANTHANAL LYRICS | ENGLISH TRANSLATION
Yen Endral Un Pirantha Naal,
Because, it's your birthday.
Uzhaga Pookalin Vaasam Unaku Sirai Pidipen,
I'll bring you the fragrance of all the flowers of the world.
Ularntha Megathai Kondu Nilavin Karai Thudaipen,
Yen Endraal Un Piranthanaal,
With the dry clouds, I will wipe the moon.
Because it's your birthday.
Ilai Ondril Medai Amaithu Olivangi Kaiyil Koduthu,
Paravaigalai Paada Seiven Ilai Ellam Kaigal Thatta,
I'll set up a stage on a branch,
and with a mic, I'll make the birds sing.
As the leaves clap their hands.
Adhil Vellum Paravai Ondrai, Un Kaathil Koova Seiven,
Un Araiyil Koodu Kattida Kattalai Iduven,
Adhikalai Unnai Ezhupida Utharavu Iduven,
The bird that wins the singing contest,
I'll make it sing in your ears.
I'll order it to build a nest in your room.
I'll order it to wake you up at the break of dawn.
Yen Endral Yen Endral, Un Piranthanal,
Yen Endral Un Piranthanal,
Because it's your birthday.
Malai Utchi Etti Pani Katti Vetti,
Un Kuliyal Thottiyil Kotti,
Suriyanai Vadi Katti,
Pani Ellam Othukiduven,
Reaching the mountain peaks, cutting up glaciers,
I'll dump it in your bath tub and filter the sun,
to melt all the snow, for you to bathe.
Unnai Athil Kulikathaan,
Idham Paarthu Erakiduven,
Kanillaa Pen Meengal Pidithu,
Unnodu Naan Neentha Viduven,
I'll put you in when it's warm.
I'll catch blind female fishes,
and I'll let them swim with you.
Nee Kulithu Mudithu Thuvatathaan,
En Kaadhal Madithu Thandhiduven,
Yen Endraal Un Piranthanaal,
To wipe your hair after you shower,
I'll offer my love.
Because it's your birthday.
Nenjathai Vethupagam Aaki,
Anichal Seithiduven,
Melugupookalin Malae En,
Kaadhal Yetriduven,
I will make my heart into a cloth which is specifically used in wedding rituals,
And then I will make you mine forever.
I will light my love on the flowers made up of wax.
Nee Oothinaal Anaiyaathadi,
Nee Vettavae Mudiyaathadi,
Un Kangalai Nee Moodadi,
Enna Vendumo Athai Keladi,
Yen Endraal Un Piranthanaal,
If you would try to blow it off, it won't be put off.
Could you close your eyes now?
and ask anything you wish, dear.
Because it's your birthday.



Madhan Karky is lyrics writer who penned 'Yaen Endral Un Piranthanal' song verses and Siddharth Vipin is the composer of music. Check out, Ulaga Pookalin Vaasam full song lyrics in English.